Business continues to boom at a Midlands-based car charging company, driven by the growing demand for electric vehicles.
As a result, The Car Charging Company has been able to take on new staff and improve its service to offer the whole installation process from groundworks to software solutions.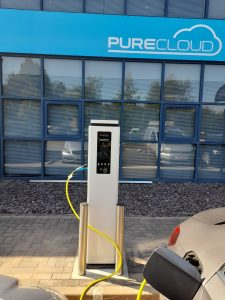 In February, the company had a record month and further growth is on the cards.
By partnering with other local businesses and taking advantage of software systems, The Car Charging Company can manage every aspect of an installation quickly and with minimum fuss for the customer.
The approach has been particularly valued by commercial clients who are often dealing with multiple charge points and more complex locations than a domestic install.
When a job comes in, The Car Charging Company can assess the work needed, apply for the network operator approval, instruct and oversee the groundworks, install the charger and set up the software that manages the charge points.
Director, Dominic Longley, says: "We now offer the whole process from start to finish, which has made things much quicker and much easier for the customer.
"We've teamed up with a local groundworks company who we can instruct to carry out any work needed on site. Historically it's been a pain trying to find decent, reliable groundworks companies who are available to do the work when we need them.
"We help customers decide what type of charger would be best suited for their needs, complete the applications with Western Power and sort the groundworks. We've now gone even further by partnering with EVAA, which provides a software solution for the ongoing management of the chargers.
"While some customers just want the charger installed, others will want more control over how they manage the chargers, such as remote activation and monitoring, scheduling who can use them and when, and checking statistics for energy consumption and so on.
"EVAA can link a network of chargers, even if they are from different manufacturers.
"By teaming up with other reputable businesses, we're able to provide customers with the whole service from trusted providers, which means they don't have to do hours of research and paperwork if they don't want to."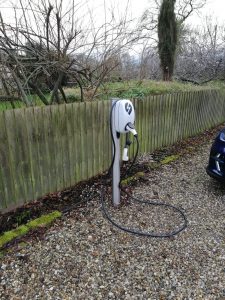 The Car Charging Company has also employed technology to streamline other elements of its service, including the Jumptech platform for managing enquiries and quotes, and Salesgun.io for automating its lead generation and marketing processes.
This has included, for example, introducing a chat widget on its website, linked directly to members of staff so potential customers can get answers to their questions quickly, even outside office hours.
"Business is doing really well at the moment – we had a record month in February, with more work invoiced than any month in the last four years," Dominic adds.
"As well as the introduction of more clean air zones across the country, the various government grants available and the company car tax benefits for green vehicles, we're also about to see the end of the grant scheme for domestic charger installs, so that's pushing demand up even higher at the moment.
"Grants for commercial installs are continuing though, so businesses can still take advantage of that.
"We now have six electricians who are doing installations pretty much constantly. Everything else we've implemented in terms of the streamlined processes and the end-to-end service means we can reduce duplication of tasks and speed everything up so we can get even more chargers installed, even more quickly."
The government has confirmed that all new conventional petrol and diesel cars and vans are set to be banned from sale in 2030. New hybrid vehicles will be given until 2035, as long as they can cover a 'significant distance' in zero emission mode.