A European enclosure manufacturer has released a complete electric bicycle charging station for commercial and municipal locations. The release comes in response to the massive increase in e-bike sales. Spelsberg's charging stations incorporate a choice of the most commonly used e-bike connector systems and four charging points, protected within an all-weather enclosure for outside or indoor installation.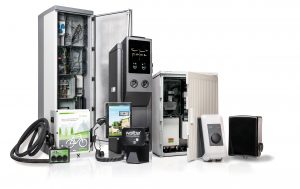 The BCS (bike charging stations) has been released in response to the boom in sales of electric bikes and scooters in the UK. In September 2020, The Guardian reported a tripling of UK e-bike sales throughout the summer with electric bikes making one-in-three of all adult bike sales at Halfords.
Domestic charging stations currently form the majority of the UK pool but demand is rapidly increasing across council-run public areas as well as public transport stations, businesses, chain stores, tourism and hospitality venues. Europe has already seen the widespread introduction of e-bike charging stations as reports estimate that by 2027 every second bicycle sold on the continent will have an electric motor.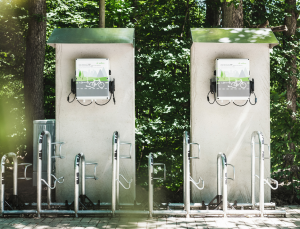 Spelsberg's e-bike charging station operates with the common Shimano or Bosch charging systems and is complete with a 2-5 metre charging cable, meaning that the e-bike user doesn't have to carry their own charging device. The Smart version of the BCS also includes an app which can locate users to the nearest BCS station.
The charging station features protection from the elements up to IP54, meaning that dust and physical particles can't penetrate, as well as protection from water splash. The station is robust and meets IK08, one of the highest industrial levels of impact resistance, meaning protection from strong forces and shocks. The system can also operate in extreme temperatures down to as low as -25 degrees centigrade and as high as +40 degrees centigrade.
The Smart BCS can be managed remotely via an online portal which displays when maintenance is required, and it can also be used to activate or deactivate a charging station. The management portal also provide metrics on usage and user behaviour.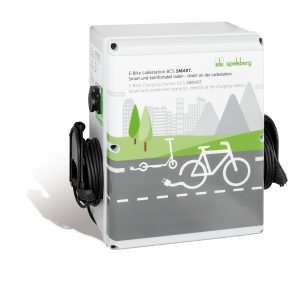 "The growth in electric bikes was already strong over the past two years, but this year's COVID restrictions combined with public initiatives to encourage cycling has dramatically expanded the e-bike market," says Chris Lloyd, Spelsberg's Managing Director.
"Electric power assistance makes cycling even more accessible to a wider audience but despite the sales boom in electric bikes, the infrastructure isn't yet able to cope with demand. Public and commercial charging stations are needed and Spelsberg's BCS units enables this with safe and easy charging."
Electric bicycles include a rechargeable battery to power an electric motor. The motor is used in combination with pedalling, making cycling easier and faster for longer