UK based installer GES Digital used a Jung and KNX base to deliver the aesthetics and control needed in this stunning new build by German eco house creator Baufritz.
In the business of home and commercial automation systems since 1997, GES Digital is one of the most experienced installers of smart building systems in the UK. Company MD, Iain Gordon, explains, "We cut our teeth in shop fitting for some of the UK's and Europe's biggest operators. From leisure, to retail, games arenas to interactive TV studios, we covered just about everything. As the business and the market developed, we also moved into delivering smart home and audio-visual systems right across the UK. During our journey, the KNX system and brands like Jung have been a mainstay of our offering."
This project came into the business because of an existing relationship. Iain explains, "We help deliver a large number of projects for Baufritz here in the UK. On this project known as Woloszczuk, we were brought on board to deliver a modern smart home system to match the cutting-edge design and eco credentials of this beautiful home."
"The project was won based on a pre-agreed pricing schedule, set in place in advance for two years. We also had to demonstrate our ability to see a very large project through to completion and in doing so, won all the ancillary elements of the project too. This included CCTV, access control, AV, garden works and a host of interesting and unique ideas."
Iain adds, "The brief was flexible to start, but as time progressed, the client drilled down into their chosen elements which we had to come up to speed with very rapidly in order to meet their needs. Thankfully the KNX system and in particular Jung helped us do that."
The Home
Baufritz specialises in creating ecologically valuable houses with individual design and high quality. Ralf Pflugfelder, Architect for the project, explains, "The site is attractively located in the vicinity of Richmond Park. Houses in the crescent have substantially increased in size and have a distinct character. Existing houses have been replaced by new and larger houses and although there is no singular or coherent architectural language, there is a precedence for Tudor Revival and various forms of Neoclassicism." Its creators say Woloszczuk is designed as a merging of these two distinctly different architectural styles.
The home has more than 8000 ft.² of living space over four floors and is designed in vertical sections, each floor conceived as a terrace or platform, meaning that the house does not have a conventional basement, but a lower ground floor with direct
access to the back garden. At the rear, the interior of the house opens with a three-storey atrium connecting all social areas. As you progress up through the house it takes on an increasingly private and enclosed character. The atrium, which takes inspiration from a ballroom, delivers the sense of space and height needed to accommodate all four floors.
The Project
A project of this scale obviously must be planned meticulously.
Iain explains, "That does not necessarily mean hours poring over the drawings, but it does mean considering every element in order to ensure that the client's brief is met and, wherever possible, exceeded to allow for the inevitable last moment requests for wholesale change or additional provision. All of which, thankfully, we were able to deliver."
The size of the project is fully appreciated when one realises it took four men eight weeks to fully cable the property. However, highly detailed multi-page cable charts with clear indelible labelling, provided confidence and a clear guide to get the work done.
Coping with the size of the property and the complexity of the control needed, Iain was glad to have on site two trusted manufacturer partners.
He explains, "As the system has done previously for 17 years, using KNX gives us the assurance of flexibility and adaptability, which is inherent to the nature of the system. Jung has been a favoured provider with our business for over 15 years and the range has evolved from the F30 controller through to the current F50 on the KNX front end with some fantastic improvements."
"Using the KNX control backbone and Jung allowed us to offer beautiful colour displays with rolling information, as well as discrete and subtle automation without the need for any display, but still making sure the house does exactly what it's supposed to when it's supposed to do it. Jung's LS range of attractive accessories and sockets are used throughout the home from data outlets to 13A UK BS approved sockets. All harmoniously suited to give a stunning symmetry to everything that is on show."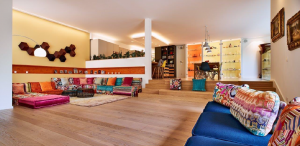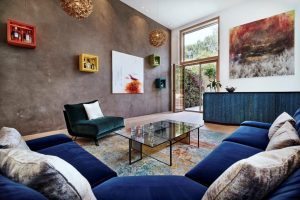 The Challenges
Woloszczuk presented a few key challenges that meant the KNX control system and Jung control points needed to be expertly deployed to deliver the correct result.
Iain takes up the story, "The seven split levels of this project posed some incredibly challenging routing issues. When you have over 150 lighting circuits and 50+ external venetian blinds, there is a lot of cable to consider and no homeowner gives up space for cable risers and cabinet locations easily."
"Using multiple distribution locations with custom built cabinets to accommodate both circuit protection and KNX system components, made the project much more manageable. The ability to hide these in wall access panels, behind a door for instance, made the positioning much easier and with the added benefit of reduced material and installation time for cabling too."
Iain explains the vital role played by the Jung F50 controller in the project. "Jung and Baufritz have a strong association. Both long established brands in Germany, Jung is part of the packages offered to Baufritz customers when they are choosing the makeup of their home."
"For our purposes here the F50 wall mounted controller delivered a bespoke interface which offers total control of the homes environmental control systems, lights, curtains and blinds. In many ways it is the most important part of this project as it is the main bridge between the homeowners and the systems that enhance this modern residence.
The appearance of the F50 is hugely important in projects such as this. In this instance a clean white look was the best match, but Jung has such a wide range of finishes that we know we will always have what we need if the client needs something more elaborate or colourful."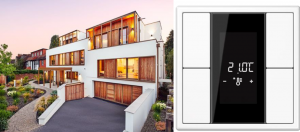 Iain also underlines that the F50 comes in Universal or Standard versions, with the Universal option offering more flexibility within a project in terms of control. The Universal option was chosen here meaning the team could programme special features such as hidden functions for certain buttons. For example, a longer press on a given button on the controller activates the garden lights, this is available in the main bedroom as well as front and rear doors for extra peace of mind and security. This approach adds flexibility, but also keeps the interface simple and easy to understand. The F50 was also able to deliver similar functionality for opening the main gate to the property and the garage doors.
Iain explains, "With the F50 we can choose to assign symbols to the different buttons with high quality laser engraving or colour-printing. On this project we chose the colour printing option as it means functionality can be reassigned and changed for different buttons and then we can apply new colour printing to match the new functionality. What's really cool is that we can do all the changes to what each controller and each button does remotely and all that needs to go to site are the new printed labels."
This cutting-edge home did not just require the most modern automation inside, but outside as well. Iain says, "Working alongside landscaping contractors provided challenges with garden lighting, automatic lawnmowers and rainwater harvesting all which were part of the scheme. However, through careful communications and a can-do attitude, everything was achieved."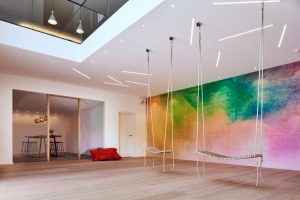 What really defines companies like GES Digital is delivering exactly what the project requires, but then adding extra value beyond expectations.
Iain explains, "No two projects are alike. What was really positive on Woloszczuk was that the client had knowledge and a strong idea of how they wanted things presented. Something as important as the app which controls the whole property via the KNX system, had to be 'menu smart', in short, intuitive and easy to use with clear navigation in order to achieve total control for the whole property."
"Normally, we make good basic provision, but with this project, getting the app right was a challenge and took several months to tune perfectly to suit the customer's needs. That said, we do pride ourselves in going that extra mile, and there was no change in cost for this client and the menu, even in our humble opinion, it is really superb."