Nest Contracts has responded to feedback from commercial and residential interior designers and electrical contractors with the relaunch of its self-serve contracts website which includes updated features that makes it easier to source, plan and design installations online.
Nest Contracts, created by Yorkshire-based retailer Nest, provides exclusive access to the leading international furniture and lighting brands, as well as instant transparent trade pricing, and the option to a create project list to help streamline the process.
The luxury design destination, which employs 36 people from its Sheffield-base, has a dedicated contracts team to deliver a bespoke experience for larger projects, giving clients wishing to work with a dedicated account manager a single point of contact for the duration of the project.
The new site, which is available exclusively to business customers working on installations within hospitality, commercial and residential settings, has already attracted over 150 new subscribers, as well as a 10% increase in average order value since it went live in October 2020.
The majority of the new subscribers, who join an existing list of 4000 trade customers, are professional interior designers and electrical contractors.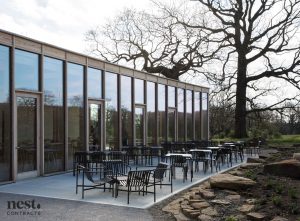 Ashlee Sanderson, Sales Manager at Nest says: "Plans to redesign the Nest Contracts site and introduce a series of new features has long featured on the roadmap, but there is no doubt that the COVID-19 crisis has accelerated plans to bring it to market, while also helping to shape its offering.
"With the closure of non-essential retail outlets interior designers and electrical contractors needed an online alternative that allowed them to source designs with speed, without having to pick up the phone to purchase, effectively plan and progress with projects.
"However, it was important to us that we maintained our client service offering with our dedicated contracts team to help source products, advise and provide a single point of contact to clients throughout a project – right from the initial planning stage, through to installation.
"The website has been very well received to date and we're delighted to have onboarded so many clients and to be working with so many creative designers on such exciting and innovative projects from across the country."
Working with clients to complete projects where possible in line with the COVID-19 restrictions, in recent months the team have worked with Urban Splash to furnish the sales suites for their House Pavilion projects, Park Hill Sheffield and Cambridge; as well as the luxury office installation for Keyon Weston in Manchester.
The contracts team also worked to provide furniture and lighting for the second phase and recently completed Monarch House project, which consists of bespoke, luxury serviced apartments which are situated on London's Kensington High Street.