Schaeffler Sondermaschinenbau is standardising electrical designs across its numerous locations – with the help of Eplan software. The company has 1,700 employees across 13 locations, making it one of the major players in the machine building sector. Until now, however, it has had just one major customer – the rest of the Schaeffler Group, which has 84,200 employees at 170 locations worldwide and a turnover of €14.4 billion.
The exceptional knowhow and expertise of Schaeffler Sondermaschinenbau is, however, now being made available to customers outside the Group. Director Bernd Wollenick says, "We're opening up new fields of activity and customer target groups. The focus is on assembly and testing systems as well as processing machines for grinding and honing. We will also be drawing on our product knowledge in the areas of robotics, vision and handling systems, and production IT."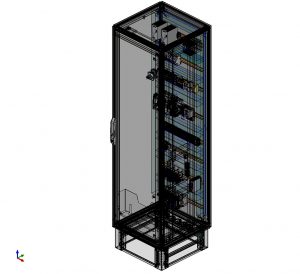 The decision to offer services outside the Schaeffler Group is one of the key factors driving the standardisation of electrical design software across the company's sites. Many of these were already using Eplan software, but in slightly different ways.
A project team of key users is responsible for the standardisation programme and Stefan Vietz, an electrical design engineer at Schaeffler Sondermaschinenbau, comments "We're developing a common, harmonised infrastructure using the Eplan Platform, which will enable us to collaborate worldwide. It will allow us to deploy our capabilities in the best possible way and increase flexibility at our development sites."
As part of the standardisation process, the project team is following global codes and norms, particularly EN 81346. Team member, Sascha Jäger explains, "We have developed code-compliant templates that are accessible to all employees, including those in manufacturing. Basic information such as equipment identification and plant/location assignment are standardised, along with device management. It goes almost without saying that every component is also stored in the ERP system with all of its relevant data".
The team has created macros for frequently used devices with a clear goal in mind. "To each device, we assigned a comprehensive data set," continues Jäger, "as this makes manufacturing easier. Our guiding principle is that whoever needs data should be able to access it easily. This is important because, in the future, we expect more and more external customers to be requesting data for purposes like the preliminary system acceptance."
In Bühl, Schaeffler Sondermaschinenbau is already using Eplan Pro Panel to create 3D designs for control cabinets and, in the future, Pro Panel will be used worldwide since its advantages are significant. Jäger gives an example. "If the designer places a frequency inverter on a mounting panel, the drilling pattern is automatically stored, and the data can be transferred to a Perforex system as a DXF file. This saves time in both design and production."
The next steps planned include transferring data from Pro Panel to external wire fabricators. Vietz says: "We will then receive labelled wires with end sleeves, or finished wire sets. This saves a lot of time, especially for projects using the American UL standard."
Right now, key users are testing Eplan eVIEW for support during commissioning. Jäger notes, "The production department or the commissioning technician can call up the schematics on a tablet computer and view the details directly. There is no longer any need to print out the schematics and the latest data is always at hand."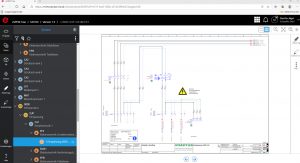 Vietz adds, "With Eplan eVIEW, the commissioning technician can use the redlining function to directly mark where they've made onsite changes. Three or four commissioning technicians can work on a system at the same time and always have the same documentation status in front of them. This also facilitates communication with the programmers – and not just during commissioning."
Two years after starting the project, the key users don't yet think they've reached their goals, but they're definitely on the right track. Major steps towards standardisation have been completed. Schaeffler Sondermaschinenbau has successfully positioned itself in the external market, and its first systems have already been delivered to customers outside the Schaeffler Group.