The ESR Virtual Conference, entitled 'Shining a Spotlight on Initiatives Impacting Electrical Safety in Homes and Workplaces', took place in May this year and received just short of 200 registrants. The event appealed to many industry professionals with an interest in electrical safety, from local authorities, electrical contracting companies, estate and lettings agents, industry bodies, electrical equipment manufacturers, housing associations, government officials, insurance providers and more.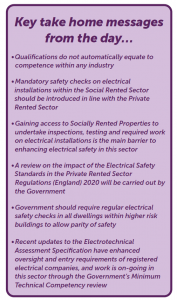 The event had a schedule of high-profile professionals speaking throughout the day and the feedback received demonstrated its value to those who attended.
The ESR is a leading industry forum, dedicated to providing innovative research and policy solutions to Government and industry, and expert, independent electrical and home safety guidance to consumers.
With Clive Betts MP, Chair of the Housing Communities and Local Government Select Committee, starting the event and Lorna Stimpson, Chief Executive of LABC, both considering the Draft Building Safety Bill and the impact this Bill is likely to have on Building Safety, a reoccurring theme began: Qualifications do not automatically equate to Competence.
This theme ran throughout the day and emphasised the need for consideration to be given as to how to verify the competence of those undertaking work without purely focusing on qualifications. This is a challenge for the industry to contemplate moving forward.
NAPIT's Chief Operating Officer, David Cowburn, considered the changes made by the electrical industry to enhance electrical safety standards over the past few years.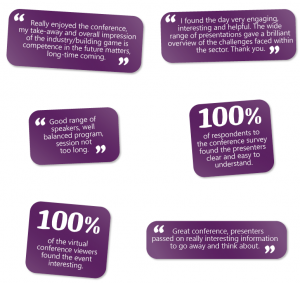 Referring to recent iterations of the Electrotechnical Assessment Specification which introduced clear supervision requirements for those undertaking electrical work, changes to the evidence of competence for any employed persons under supervision and the changes to the qualification requirements for those applying to be registered.
The following session focused on Electrical Safety in the Social Housing Sector and saw Lesley Rudd, Chief Executive of Electrical Safety First (ESF), provide an update on the industry campaign to enhance electrical safety in this area and give an overview of the recent report ESF published on this subject.
This led on nicely to the expert social housing panellists whose main take away message was that access to undertake necessary electrical inspections and remedial work is the number one barrier to enhancing electrical safety in this sector.
Paul Meenan, Chair of the ESR in the Workplace group, provided a thought provoking and insightful presentation in which he highlighted the importance of managing electrical safety in the workplace.
Luke Spanton, MHCLG, closed the conference with an interesting update on the Electrical Safety Standards in the Private Rented Sector (England) Regulations 2020, and confirmed a review will be carried out into the impact of these regulations on electrical safety standards in the private rented sector.
Looking ahead, The Electrical Safety Roundtable will continue to work hard to unite the industry and discuss the challenges facing the electrical sector with the aim of building consensus around potential solutions to improve electrical safety in the home and in the workplace.