A variety of Hager solutions have been specified for a new multi-residential project in Leicester. The North Gate project, developed by Mitchian Group, consists of 69 apartments and will also house the developer's head office, with the ground floor providing general office space.
Hager supplied 69 Design 10 consumer units and wiring accessories for the apartments, ensuring reliable functionality and ease of installation for the contractor while offering attractive aesthetics for the properties' residents. Hager's Sollysta Decorative range was also specified throughout the project, with the polished and brushed steel finishes of the wiring accessories matching the interior design perfectly.
With ongoing safety a primary concern following the regulation changes outlined in Amendment 2 of the 18th Edition Wiring Regulations, arc fault detection devices was specified to supply the penthouse final circuits. A Design 10 consumer unit with Hager's AFDD with ProTools was selected to provide optimum protection against the harmful effects of dangerous arc faults.
The benefit of ProTools and the innovative diagnostic software incorporated within the device, provided Mitchian Group with a solution that offers superior safety protection levels for the residents of the North Gate development.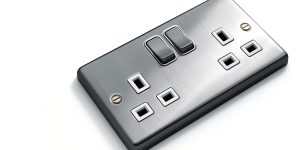 The ability to intelligently modify the device's algorithm in anticipation of the introduction of new technologies and wave signatures and the ability to update the software remotely eliminates the need to replace the device in the future. In specifying Hager's AFDD with ProTools, Mitchian Group is assured that the highest standards of safety protection are provided for its clients, while the contractor remains compliant with the latest regulations.
Paul Bennett, Project Sales Manager for Hager, comments, "We are delighted to have been asked to be part of the supply team on this important project. Our new AFDD with ProTools is ideally placed to offer the ultimate level of safety and protection and has meant we have been able to add real value to this project."
The ability to update the software within the device will change the game for Mitchian Group and other electrical contractors, providing them with peace of mind and reassurance that future-proof solutions, like Hager's AFDD, are in place long after the development is completed. Hager's solutions offered functionality and style to the project, ensuring a high aesthetic standard while delivering reliable and compliant electrical solutions.
Phil Mitchian, Managing Director for Mitchian Group, adds, "By partnering with Hager, we have been able to deliver quality-led, high performing electrical solutions, along with the inclusion of important and now mandatory devices such as AFDDs, to support the multi-purpose residential properties and deliver tangible benefits for years to come."
Find out more about Hager's award-wining AFDD solution here: https://hager.link/ng-cs/AFDD