Makita has launched its first XGT 80VMax Disc Cutter, to offer professionals a powerful cordless solution that delivers output equivalent to traditional 2-stroke alternatives – with the added safety and improved usability benefits of cordless.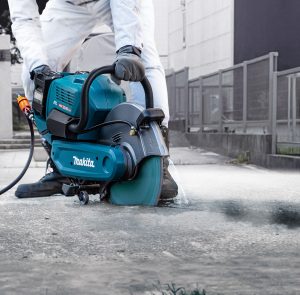 The CE001G XGT 80VMax 355mm Disc Cutter is powered using two XGT 40VMax batteries and delivers an impressive maximum output of 3,600W and no-load speed of 5,300rpm, making light work of any high-demand application. In addition, this machine has a large wheel diameter of 355mm and offers a maximum cutting capacity of 127mm, so it is suitable for use on larger workpieces.
The disc cutter is equipped with numerous safety features including Active Feedback Sensing Technology that automatically shuts down the power to protect the operator and the machine if the rotation speed suddenly slows down in the event of the blade jamming in the cut or if kickback occurs. To improve user safety further, the CE001G features an anti-restart function that prevents accidental start-up and operators can also choose to connect a water supply to the machine to aid dust suppression.
The CE001G has also been designed with an anti-vibration housing, to prevent user fatigue. Vibration is absorbed thanks to a built-in dampening spring, resulting in vibration levels of just 2.0 m/s2 at the front handle.
This machine is available as a body only model (CE001GZ) for contractors who have already invested in the XGT battery platform, or as a complete option (CE001GT201) supplied with two 5Ah batteries and twin-port charger.
Kevin Brannigan, Marketing Manager at Makita says: "We are excited to launch the CE001G. Thanks to our XGT cordless technology, the CE001G offers increased depth of cut and the output needed to tackle high-demand applications without compromising on battery run time, keeping professionals working disruption free for longer.
"With Makita's XGT 40VMax platform, professionals can also use the same batteries to power over 50 XGT models – making it easy to swap between tools and tasks across the workday."
The CE001GT201 also qualifies for Makita's latest XGT redemption promotion where customers can claim the MR002GZ01 Bluetooth Job Site Radio, or MP001GZ XGT 40VMax Inflator, or ML003G XGT 40VMax Worklight with the purchase and registration of selected XGT 40VMax machines.