Ideal for commercial spaces where visual comfort is key, Ansell Lighting has unveiled two new low-glare additions to its commercial range.
Volo CCT Recessed Modular and Humber Suspended Linear have both been designed to deliver a UGR<19 rating when installed at typical heights and spacings, controlling the risk of glare and visual discomfort being caused to occupants of the building.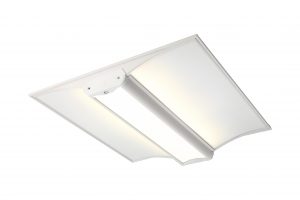 Volo CCT Recessed Modular
Suitable for spaces where both ambient and task lighting is required from one source, Volo is a high performance direct/indirect luminaire that delivers optimum output.
An alternative solution to the classic panel fitting, the architectural LED emits direct light from a central micro-prism diffuser alongside indirect output from the side diffuser sections.
TP(a) as standard, Volo is an ideal fitting for commercial settings such as offices, classrooms and meeting rooms and has been designed to deliver visual comfort and help specifiers achieve UGR<19. It has two CCT selectable settings of 3000K and 4000K. Tunable White and OCTO models are also available, enabling CCT to be set between a wider range of 2700K and 6500K.
Created as a recessed modular light, Volo can also be surface mounted and suspended (a suspension kit is supplied separately). Emergency, self-test emergency, DALI emergency, digital dimming, PIR and OCTO smart control options are also available.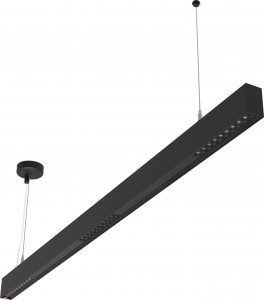 Humber Suspended Linear
The latest addition to Ansell Lighting's linear range, Humber is a design-led, modern suspension light featuring a slim, black powder coated, aluminium profile.
Ideal for most commercial interior lighting settings, including offices, retail and hospitality spaces, Humber has a black polycarbonate reflector with individual optics helping specifiers to deliver a low UGR<19 rating.
1-10V dimmable as standard, Humber is also available with a digital dimming option for ease of use. Taking this controllability one step further, an OCTO smart control version has also been created, making it a great option for connected lighting installations.
Mark Abbott, Managing Director at Ansell Lighting says: "Whilst not a legal requirement, the focus on visual comfort and low glare lighting in commercial spaces is ever sharpening. A key factor in wellbeing and productivity, lighting plays an important role in public spaces which is why we have focused on creating new products that can help specifiers and installers to deliver a UGR<19 space.
"Whilst different aesthetically, Volo and Humber are both great examples of how the right lighting choices can not only fulfil their purpose but also contribute to a much more comfortable environment."