Ansell Lighting's Magna LED Street Light is the ultimate streetlight, providing powerful illumination in open outdoor spaces.
Ideal for both street and area lighting and in spaces such as pedestrian zones or car parks, the Magna LED Street Light incorporates advanced lens technology for optimum performance and control, delivering an evenly distributed, cool white light alongside an extremely low 'G3' level of glare.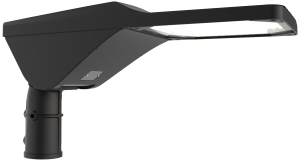 Available in 30w, 50w and 70w outputs, the pole and spigot mountable street light is highly durable, achieving IP66 and IK09 ratings thanks to its UV stabilized polycarbonate cover and robust die-cast aluminium housing.
Low maintenance, the Magna LED Street Light has an LED lifespan of L80 B10 54,000 hours and comes with a 5-year warranty for added peace of mind. It has also been designed with toolless gear tray removal to make it easy to maintain, has built-in surge protection and an anti-tamper isolation facility.
Mark Abbott, Managing Director at Ansell Lighting says: "The Magna LED is a remarkable street light, providing a low maintenance, high performance solution for use in open outdoor spaces. Every detail of this luminaire has been thoughtfully considered from its robust housing and advanced lens design to its streamlined aesthetic and added protective features resulting in a truly unparalleled product."