Sleek and modern in its design, Leo is a new external wall light from Ansell Lighting.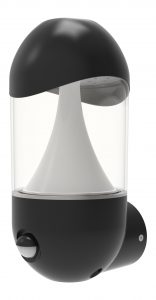 Available in both half and full lantern styles, the wall light features a white reflector with clear polycarbonate diffuser and black casing – ideal for residential and commercial applications.
Giving installers an extended level of choice, the half and full lantern luminaires are also available in two distinctive models – CCT Selectable and Connected by WiZ.
Traditionally operated, the Leo CCT half lantern and Leo CCT wall lantern are wall lights that offer users the option to manually set colour temperature between 3000k and 4000k. With a L70 54,000 hour lifespan, they are available with PIR options for added convenience and security.
For those requiring a smart lighting system, the Leo Half Lantern Connected by WiZ and Leo Lantern Connected by WiZ luminaires are instantly pairable and WiFi and Bluetooth enabled. Embedded with WiZ technology, they are operated via the WiZ app or voice control and have a L70 36,000 hours lifespan. Both lights are Tunable between 2700K and 6500K.
Mark Abbott, Managing Director at Ansell Lighting says: "Leo is an extremely versatile wall light which, thanks to the different functional options available, will appeal to a wide variety of projects and settings. Energy efficient, the WiZ Connected and PIR options will also help to ensure that the lights are used economically – helping to reduce electricity consumption and costs."