Offering an impressive efficacy of 200 Lm/W, the Z LED Plus is a powerful new addition to Ansell Lighting's Z LED high bay lighting range.
Highly efficient, the luminaire delivers optimum lighting performance and optics, reducing the number of fittings required to achieve desired illumination levels, lowering power consumption and energy costs.
The first of 30 new products set to be revealed during 2022 to mark Ansell Lighting's 30th anniversary, Z LED Plus is ideal for a range of industrial, commercial and retail settings thanks to its versatility and durability.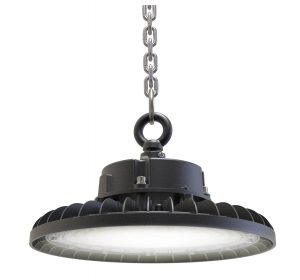 Designed with a high resistance to corrosion and wear and tear in mind, the IP65 rated Z LED Plus provides full protection against ingression from water and dust and is suitable for installation in harsh and high dependency environments. It also has a high impact rating of IK08, ensuring the fixture can withstand potential knocks and impacts. Thermal management has also been cleverly considered, with the heat produced by the fitting designed to dissipate away from the fixture, extending its lifetime and ensuring no premature failures.
Quick and easy to install, the Z LED Plus can be ceiling mounted, suspended or wall mounted and is supplied pre-wired with a 3M H05RN-F cable to save fitting time. It is available in three output wattage options, 75W, 115W and 150W all of which feature a 0-10V dimming setting as standard, enabling lighting levels to be easily controlled.
The Z LED Plus is also available with an IP65 programmable microwave sensor option which has a built-in daylight sensor, and an emergency option which removes additional costs as there is no need for separate emergency lighting.
Mark Abbott, Managing Director at Ansell Lighting says: "We are really excited about the launch of the new Z LED Plus. It is an unbelievably powerful fitting which, thanks to its high Lm/W efficacies, delivers a significant level of lighting, reducing power consumption and lowering energy costs.
"As the first of 30 new products set to launch this year, to mark our 30th Anniversary, it showcases perfectly what Ansell Lighting as a business is all about, creating high quality, durable lighting products that reduce environmental impact and offer long lasting economical benefits for the user."