As an expert in the design and delivery of audio visual, automation and intelligent lighting systems, Avande is reaching out to the electrical contracting community to offer its services in these expanding and in-demand sectors.
With many successful projects and partnerships already completed, Avande is looking to expand its support for contractors by offering them access to the skills, the information, the designs, the equipment and a database of contacts across all areas of the smart home sector. With Avande's help, contractors can expand their services beyond the offering of wiring, lighting and more basic parts of an electrical install to offer a one-call solution delivering intelligent lighting and heating, smart security, networking and a whole range of exciting smart home and audio-visual entertainment experiences.
Avande has the experience of working across many of the most prestigious residential developments in the capital and the South East, including single dwelling projects and MDU's, delivering the very highest quality to the tightest of demands and deadlines.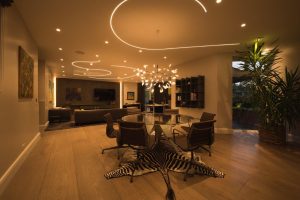 As well as offering all the expertise contractors need to deliver these types of services, Avande can also help with the ordering process via the Avande Connect section of the company website, which provides system building tools for contractors and end users alike. Via the website, contractors or their customers can choose, specify and create a price for a system tailored to their needs in minutes, making the process quick and accurate and without the need for expensive consultants or designers.
Ashley Said-Kirton, Founder and CEO of Avande, explains, "As developers look for an edge to sell their properties, the smart home – delivering aspects such as intelligent lighting and heating, networking, home automation and entertainment systems – is of increasing interest. Plugging our experience and expertise into your offering can help you win more and larger contracts, increasing the attractiveness and profitability of your business. Training and gaining the skills you need to deliver these services is expensive and time consuming. With our offering, you already have all the expertise you will ever need to enter the smart home market."
Ashley adds, "Through the Avande approved partners scheme we also work in collaboration with our electrical partners giving them installation work. The Avande Connect store on our website has enabled Avande to have a nation-wide coverage. This means our clients/home owners can select anything from a smart lighting system to a total rewire and design for a new home or extension to an existing property.
"Avande offers all electrical, network, control and smart home services, from the installation to design for the residential sector, so there is a huge opportunity for the right electrical contractors to not only enhance their offering with access to smart home equipment, but grow their electrical team by partnering with Avande and taking on more business for the install of our projects. Avande becomes your AV department, broadening your offering and enhancing opportunities for new business."
Working with Avande means electrical contractors can ensure they don't loose work to AV installers as they will have all the resources to deliver everything from the cable pulling, to intelligent lighting, through to audio visual systems, home automation and beyond.
The Avande team stands ready to explain further exactly how we can help contractors enter the smart home market and be successful – just get in contact to find out more; visit avandeconnect.com or email enquiries@avandeconnect.com
Images courtesy of Gerrard Developments