Until now, all NAPIT's publications have centred around its core business, that being site-based guidance for electricians (On-site Solutions), periodic inspections (EICR Codebreakers and Landlords Private Rented Sector Guide), and understanding risk assessments (Risk Management Code of Practice). The one book missing from this list, and enforcing what NAPIT stands for, is a definitive, purpose-written publication covering how to inspect and test an installation, either from an initial verification or periodic perspective.
What's new?
NAPIT's technical authors have put together its latest publication covering everything you need to know on how to carry out an initial or periodic inspection and test a circuit. We are pleased to announce the launch of our latest publication, Guide to Initial Verification and Periodic Inspection and Testing of Electrical installations.
Back to Basics: What is test equipment?
The book goes into detail to explain all the separate pieces of test equipment we use. Often taken for granted is a multifunction tester, we mustn't forget that individual test equipment was where it all started and is still of great value now.
Many electricians new to inspection and testing find it difficult to understand the different tests and instruments that give the required measurements. The best way to deal with this is to breakdown each piece of test equipment and the tests they're used for and explain them in detail. NAPIT's latest publication, Guide to Initial Verification and Periodic Inspection and Testing of Electrical installations, does exactly this; in easy to read steps.
Next Steps: What are the tests?
After the test equipment, the most daunting part of the testing process is understanding the different tests, when to apply them, and how to do them. NAPIT's new guide gives an in-depth explanation of all the individual pieces of test equipment required to comply with BS 7671, plus a few extras that are important to have, or at least know how to use.
Along with individual pieces of test equipment, we also cover the more familiar multifunction installation testers (MFTs) that are most common in our industry today. There are also many different test types required by BS 7671, and we explain what all these are, how to carry out each one, and when to use them.

Time to Inspect
After explaining all of the different tests and their respective pieces of test equipment, we need to look at the different inspections.
Although we technically inspect before we test, we need to know what the tests are before we start, which is why we explain them first.
There are essentially two inspections to carry out before any testing takes place:
1. Initial verification inspection
2. Periodic inspection
Different inspection schedules cover the two inspections, and although mostly similar, some distinct
differences need to be understood.
All these differences and schedules are dealt with in detail to give the user an in-depth understanding of the two inspection types and how to carry them out.
Before you start inspection and testing
Before any inspection or testing is carried out, there are a few things we need to confirm for either initial or periodic inspections.
Initial verification is a very different process to periodic, and so are the outcomes and the certificates or reports that are produced on completion.
We explain all these differences and the Legislation that needs to be taken into account before any work starts. Especially where periodic inspection is concerned, the work that needs to take place before the inspection and any testing starts is very important and can't be skipped; it's OK though, we've covered this also.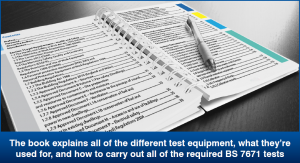 Who is it for?
As we all never stop learning, our new guide has been written to support those just starting off in inspection and testing, those undergoing any training courses which are specifically for inspection and testing, or for the experienced inspector or tester.
In our opinion, this new guide gives the best advice for inspectors and testers currently available. It complies fully with BS 7671:2018 + Amd 1 and is a must-have toolbox book for any electrician.
When is it available?
The publication is now available to pre-order. The list price is £14.99 for members and £16.99 for non-members.
All fees states above exclude any necessary delivery fees. Pre-order price is for a limited time only and is only available to pre-order as a print version of the publication.
Digital e-book and bundles will be available for release in general sale due February 2021.