Bull Products has extended its range of construction site safety equipment, with the addition of new temporary lighting and cabling products.
The equipment has been designed specifically for building sites, is easily transportable and energy efficient. It is also robust enough for both internal and external use, and is suitable for the extreme, harsh conditions of the construction sector all year round.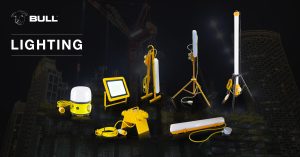 Ross Markham, Managing Director of Bull Products, says; "Bull Products worked throughout lockdown to help our customers to continue to work safely wherever it was possible to do so, and this range of equipment will ensure they can maximise their working hours following the return to work.
"The lighting equipment will extend autumn and winter days to help contractors work smarter and brighter and to keep to schedule. The range of products matches Bull Product's commitment to support UK construction while 'securing your safety' at work."
The new range includes:
110V LED Festoon kits
110V LED Non-Corrosive Tripod and Heads
110V LED Non-Corrosive A-Frames
110V LED Site Non-Corrosive Fittings
Slimline Floodlights
Cabling accessories