The very unsettling words "it can be risk assessed out" are ones often spoken by contractors when referring to secondary power supplies for firefighters' lifts. They are often referring to a misperceived loophole in the BS 9999 regulation, one that is alarmingly misjudged by all too many.
In January 2017, the most recent revision of the BS 9999 was released, a code of practice for fire safety in the design, management and use of buildings. A regulation that provides a best practice framework for fire safety, aimed at facilities and building managers, designers, surveyors, and fire risk consultants. The regulation includes specific guidance on primary and secondary power supplies for such fire safety systems, including firefighters' lifts.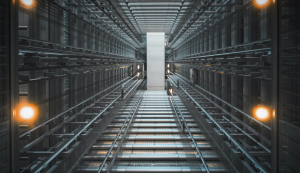 Power Control believes that the confusion stems from Clause 45.9, Evacuation Using Lifts. This clause refers to risk assessments to evaluate whether the lift meets the recommendations given in Annex G and suggests that a lift not specifically designed to be used for evacuation purposes (i.e. a firefighters' lift) can be used, provided that it gives the same functionality as an evacuation lift and there is a suitable risk assessment carried out.
However, Clause 37.2.3.3 – H (Note 5) details that if the power supply arrangement is being used for applications additional to an evacuation lift (i.e. a firefighters' lift or other fire safety reasons) then a secondary power supply is required, and therefore cannot be risk assessed out.
"For evacuation lifts, it is often acceptable to provide a supply from a single intake to the premises, provided that in all other respects the configuration of the circuits within the building and other fire protection measures detailed above and in BS 8519 are as recommended. A secondary power supply from a separate substation or standby generator is not required unless that supply arrangement is necessary for other fire safety reasons (e.g. to supply a firefighters' lift or smoke control system)".
When a secondary power supply is required, the simplest option is often one that is overlooked. Only considering the more traditional and challenging methods, a supply from a separate substation or standby generator is the reason contractors have tried to skirt around this regulation. However, what they may not realise is by doing so they are putting lives at risk.
"It's worrying when, even after a recent high-profile disaster, advice is being given to 'risk assess out' a critical piece of infrastructure in order to save on cost or make the project easier. How many buildings have risk assessed out equipment that could one day save lives?" says Matt De Frece, Divisional Sales Director at Power Control.
An uninterruptible power supply (UPS) is easier to install, maintain and is often more cost effective than the incumbent methods. UPS solutions suitable for firefighters' lifts must meet EN 50171 guidance which requires a UPS to have 120% permanent power overload capacity, an isolation transformer and protect against battery inversion – a critical feature for regenerative loads such as lift motors.