The CEF store based in the famous London postcode of SW19, is rebranding as CEF Wimbledon. Previously known as CEF's Merton store, it's one of 390 branches of the nationwide electrical distributor that stocks over 3,000 everyday essential electrical products.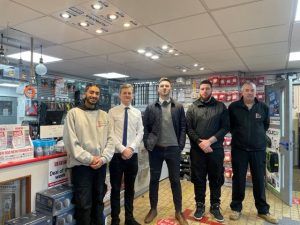 The Wimbledon store has always been well stocked and ready to supply customers with everything from cables and lamps to sockets, ventilation, heating and switchgear from its trade counter, and it's hoped that its new name will prevent future confusion about its location.
Group Manager, Dan Alimardani comments: "There was sometimes a bit of head scratching about our store name, with customers not realising exactly where we are. We hope that changing our store name will lead to CEF Wimbledon becoming as famous for its outstanding service as the world-class players at our neighbouring tennis club."
"We're proud of our history of providing customers with expert advice, training and essential electricals from our stores and from our online range of almost 35,000 products at everyday value prices. We want to reassure our loyal customers that CEF Wimbledon is the same store with the same friendly faces, and it's just the name that's changed."
The SW19 postcode is famous worldwide as the home of the All England Lawn Tennis & Croquet Club, home to the Wimbledon Tennis Championships. Wimbledon is actually a district and town in the Borough of Merton in south-west London, England.