CMD has developed an ideal on desk workstation module for agile working and hot desking environments, with the launch of Capsule Plus.
Building on the popularity of the Capsule workstation power module, which provides a stylish and compact fixed format solution available from stock, Capsule Plus offers up to PD65W of charging power, enabling USB laptop charging. With two power sockets, along with type A and C USB fast charging, Capsule Plus enables a plug and play approach to hot desking, with ample power distribution for powering or charging two devices at once.
Stephen Roberts, head of sales at CMD comments: "Most commonly used laptops require 25-50W of power to charge them, depending on their specification, so our 65W Capsule Plus offers ample to charge both a laptop and a mobile phone at the same time. Where two devices are drawing power simultaneously, the type C charger takes priority, providing up to 45W of power, with the remainder distributed through the type A connection.
"As more companies move to an agile working model, allowing people to combine working from home with hot desking in the office, the convenience of being able to power up with a simple cable will be increasingly important. The launch of Capsule Plus continues our focus on developing solutions that respond to evolving working practices, serving the office interiors market and the end user."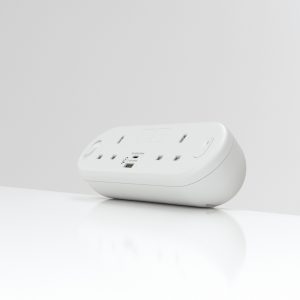 Available in a choice of black or white, the Capsule Plus includes two empty keystones for retrofitting of HDMI and USB keystone couplers, enabling data or A/V connectivity within the power and charging module. The Capsule Plus specification also includes two resettable 3A circuit breakers and a pre-installed 1.5m lead to male GST Wieland connector, which can be used to connect directly to the female GST socket on CMD's Elite+ or Conti under desk workstation modules. Alternatively, Capsule Plus can be connected directly to a UK plug socket using an additional starter lead.
Capsule Plus is supplied with a c-clamp to fix the module to any desk thickness between 11mm and 30mm, making them suitable for a wide range of furniture choices.
Stephen Roberts adds: "The new Capsule Plus rethinks the capabilities of one of our most popular on desk workstation power modules, offering specifiers even more solutions within the CMD Ltd range to meet the changing needs of office occupiers. It provides the perfect solution to align workstations with the latest generation of devices and workplace routines and continues our track record in delivering high quality  products."