The Construction Leadership Council (CLC) has confirmed its continued commitment to supporting the Construction Talent Retention Scheme (CTRS) for the industry and is working with CITB and others to support its ongoing development, including a new 'Talentview' early careers offering to support the attraction of new talent into the construction industry.
The scheme will remain completely free to use for all construction businesses and candidates until at least April 2022.
So far, CTRS has promoted 8,675 vacancies directly from construction companies across a wide range of roles, both site and office-based, professional and trade, and including many jobs suitable for people with transferrable skills who could be attracted into construction from other sectors such as aviation, retail, hospitality and leisure. It has also supported many larger organisations with internal redeployment programmes.
CTRS is estimated to have saved businesses more than £485,000 to date, based on typical recruitment costs, together with further savings achieved through internal redeployment placements facilitated through the system.
Currently there are more than 1,700 live vacancies being promoted on the CTRS site and more than 1,600 individual candidates registered. Almost three quarters of the employers registered on the scheme are SMEs, but the CTRS has also received strong backing from bigger firms such as MACE, Sir Robert McAlpine, Kier Group, Barratt Developments, AECOM and Costain.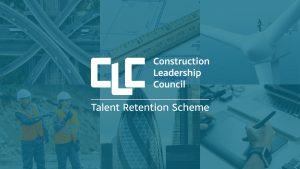 As part of an ongoing investment to help tackle skills shortages and attract new talent into the industry, the CTRS will also broaden its support for early careers provision from next month, including help for employers and candidates interested in developing apprenticeships, graduate recruitment and work experience opportunities.
Linked to CTRS and other related platforms, Talentview Construction will make it easy for those searching for a career in construction to join, helping to address the predicted demand for additional roles to support the industry's predicted growth and its drive towards net zero.
Mark Reynolds, the CLC lead on skills, says: "The CTRS was set up last year as a rapid response measure to mitigate any loss of people and skills from the industry caused by COVID-19, having learned what happened in previous recessions. We thank the Department for Business, Energy and Industry Strategy, CITB, major employers and others for their support.
"While there have obviously been redundancies in our sector, we have also seen a high level of skills retention and redeployment work too, including the fantastic employer response to retaining apprentices.
"The level of support and collaboration from the breadth of the sector has given us the confidence to develop further an industry-wide portal for talent management. Talentview Construction, an addition to CTRS, will soon provide a shop window for all those wishing to enter the industry as new entrants and career changers – a real opportunity to attract the new skills we need and to improve the diversity of the industry."