By Nico van der Merwe, Vice President of Home and Distribution at Schneider Electric
Whether you're rewiring a small residential property or a large commercial building, the distribution board is the core consideration. Over the years, it has evolved from a simple device for isolating power with relatively crude fuse wires to a modern unit filled with complex electronic equipment and various protective devices.
Given the importance of installing distribution boards correctly, electricians must learn the ins and outs of selecting boards and protective devices and ensure that installation methods meet and exceed the required standards. Understanding regulations and best installation practices will not only guarantee the compliance of installations but will also ensure the highest levels of safety for clients.
Starting point: regulations and installation practices
Whenever an electrician selects and installs a distribution board, statutory requirements must be met. The Health and Safety Executive (HSE) considers installations that meet the requirements outlined in BS 7671:2018 to be more likely to comply with UK legislation laid out in the Electricity at Work Regulations 1989.
Regulation 132.3 is an excellent place to start since it compels electricians to think about the nature of demand to estimate the number and type of circuits needed for lighting, heating, electricity, control signalling, communication and information technology, among other areas. At a domestic level, a single board may suffice. Commercial and industrial projects may demand numerous boards and equipment suitable for handling cross-sectional areas, higher fault currents, and larger current loads.
Other regulations vital to comply with include Regulation 132.8, which requires electricians to select devices that will protect against the outcomes of overload, fault current, overvoltage and undervoltage. Regulation 132.10 involves the provision of disconnecting devices to permit switching and isolation of the electrical installation, circuits or individual items of equipment as required for operation, inspection, testing, fault detection, maintenance, and repair. Electricians must keep up to date with ongoing regulations to ensure that work is carried out correctly and guarantee safety in domestic and commercial buildings.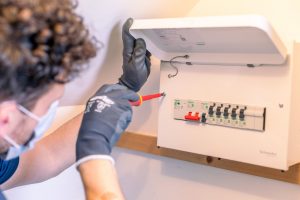 Protection against the risk of fire should be high on the agenda for all electricians, and fire sealing methods must become engrained in practice. The introduction of Regulation 421.1.201 relating to steel enclosures for domestic consumer units made electricians a lot more aware of the risk of fire in switchgear assemblies.
To ensure adequate steps are taken to minimise the risk of fire spreading from within a consumer unit, particularly if the board is mounted on a flammable surface, it is essential to seal the cable rear-entry points using a proprietary fire-rated seal such as intumescent strip. Cables entering through side surfaces are best fitted with fire retardant grommets, subject to the requirements of Regulation Group 416.2 being met and utilising metal blank plates instead of plastic, coupled with a metal lid that self closes. Intumescent sealing compound is also available where openings may allow the passage of flames.
Intelligent use of power
The UK government's climate change target, which aims to bring the UK three-quarters of the way to net zero carbon by 2050, will no doubt drive the technological advances in the construction of distribution boards in the future.
As greener electrical heating systems replace fossil fuel usage and electric vehicle charging becomes more common, we will likely see increased demand for distribution boards and electricians. In the UK, we already see many new builds provided with three-phase supplies to allow for load balancing and increased demand in the UK domestic sector, and thus three-phase boards may become more common in homes.
The future of installation
Designing, selecting, and erecting distribution boards is a difficult task. Before installing a new board, a thorough check of the wiring is required to detect any hidden problems. For example, old wired fuse boards will not safeguard against neutral earth failures, and merely replacing the board may result in a scenario where power cannot be restored.
As well as the technical expertise required, one of the most difficult parts of being an electrician is educating customers to fully understand what the technology provides. The cost of labour, expertise and parts can come as a shock to some clients, but a well-informed customer will ultimately make well-informed choices.