An electric vehicle charging business is set to capitalise on a growing market after securing a number of strategic partnerships in 2020.
Wirral-based firm adi Vehicle Charging Solutions (VCS) launched at the beginning of 2019, and is making inroads into the world of electric vehicle infrastructure.
In June, the business propelled its partnership with EV charging provider Franklin Energy, to deliver a 'Recharge Network' for Merseytravel. This consisted of 52 existing public charge points across 21 sites within Merseyside, setting the scene for growth.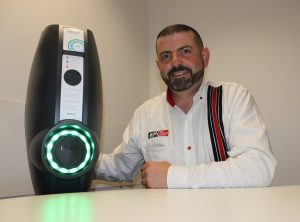 And now in conjunction with Franklin Energy, adi VCS has extended its reach across a further 21 sites in the UK, as part of a far-reaching infrastructure roll-out project for leading national car park operators Q-Park.
With large parts of the North West, including Greater Manchester, Merseyside and Lancashire also benefitting from adi VCS' specialist services, the firm's strategic assault to charge up the UK shows no signs of losing spark.
"What we've found is that EV demand is really growing as anticipated," says company brainchild, Kenneth Green. "With the announcement of the new diesel and petrol car ban from 2030, you have an industry that has been solidified as the way forward.
"As infrastructure specialists, we've been keeping a watchful eye, and we've been completing projects across the UK and Ireland."
Partnerships adi VCS can link to its name are Schneider Electric and EVBox Group, which combined can provide the complete EV infrastructure package, from 7.4 – 22kW AC fleet and public charging systems to 50 – 350kW DC Micro Grid Charging Hubs.
"EVBox Group and adi VCS share an approach that makes them good partners for EV adoption in the UK," comments EVBox Group regional director, UK & Ireland, Jonathan Goose.
"The product portfolio of EVBox Group enables adi VCS to deliver EV charging solutions that meet the expectations of customers."
Through its alliances, adi VCS are helping a range of parties, from city councils, blue chip companies, fleet operators and big name retailers, realise the benefits that can be gained with the EV switch.
"We're delighted to be connecting with partners and industry professionals to drive forward the e-mobility transition," states David Hall, VP Power Systems UK & Ireland at Schneider Electric.
"As we approach the 2050 Net Zero goal, low carbon energy and improved electrical infrastructure will be essential to encouraging users to adopt electric vehicles."
One of institutions already reaping the benefits of the adi VCS glow is the North West Ambulance Service, which has become one of the first services in the UK to fully embrace the EV drive.
"The example with North West Ambulance Service demonstrate how an organisation's fleet can benefit from huge reductions in fuel expense," adds Green.
"While there is the initial outlay, the long-term realisation outweighs upfront cost, so we're encouraging businesses, land developers and more to understand that the EV revolution, and to get on board now."
Commenting on the adi VCS partnership, Robert Byrne, founder and MD of Franklin Energy, adds:
"We are delighted about our partnership with adi VCS and have them carry out design, installation, maintenance and servicing works for our projects."
The firm agreed to work on an interlinked charging system between the Wirral Waters development and the Wirral Master Plan, with Wirral Council.
It holds a partnership with Urban Splash, an award-winning building regeneration company that is transforming residential developments across the country, incorporating EV charge points into the housing mix.
And with adi VCS having the wider backing of the adi Automotive division, with household car manufacturers to its name, the business is set to continue expanding its presence alongside the fledging electric car revolution.