When Billy Byrne, resident sparky on DIY SOS, moved house recently, installing a CCTV system to protect his new premises was top of his to do list. Having partnered with Scolmore Group on a number of collaborations over the years, Billy has a great insight into the products and services that are available across the group and researched his options from ESP's comprehensive CCTV range.
Following consultation with the ESP technical team to establish the right system for his needs, the RekorHD 2MP 4 camera kit was recommended. The installation was carried out by electrical contractor Matt Francis of M-Tech Electrical, a family-run electrical contracting firm covering the south west region. Matt and Billy have worked together a number of times over the years on some of Billy's TV projects and Matt was only too happy to lend a helping hand with the install.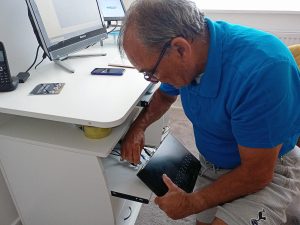 The RekorHD 2MP CCTV range used for Billy's installation has been the subject of a revamp this year. The kits (4 and 8 channel options available) provide all the components required to get a system up and running in one box – the only additional item required is a monitor to access the menu and system display. The systems have been designed with ease of set up as a key feature, including the option for remote monitoring via smartphone or tablet, using ESP's specially developed ESP View App.
The range includes new and improved cameras, which feature contemporary styling and robust metal housings. The infrared capture has been increased from 20 to 30m and the range now includes intelligent function, with perimeter intrusion detection and line crossing detection offering improved functionality compared with the traditional motion detection feature.
The kits include a stylish 4-or 8-channel DVR, pre-installed premium surveillance hard drive, cameras, camera cables, system power supply, mouse and HDMI cable. The menu is designed to be very user-friendly and is navigated via mouse control.
There are a number of kit options available, including two or four camera kits, with the cameras offered in either a bullet or dome style and available in a white or grey finish. Four cameras were used to provide cover for Billy's property, with two positioned at the front and two at the rear, and he opted for the dark grey housing.
Commenting on the install project, Matt Francis says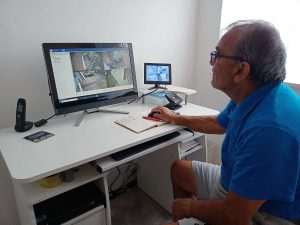 : "What I love about the RekorHD CCTV system is how easy it is to install and set up, and the quality of images from the cameras is excellent. Billy did much of the ground work, running all the cabling and providing much needed refreshments along the way. Having remote access to the system was a key consideration for Billy, who wanted to be able to access and view the system while away from home, and he is very impressed with the overall result.
"It was pleasure to be able to give Billy a hand on this project. He does so much good work for so many communities and it was great to be able to give a little back to him."