For its spectacularly challenging motorsport series, Extreme E is counting on Bosch Professional to beat the elements and keep the events moving.
Motorsport fans are used to roaring combustion engines and screeching wheels on blazing tarmac, but with Extreme E 'X Prix' races the action takes place in the wild. Extreme E is the world's first off-road series to race 100% electric SUVs in the most remote parts of the world.
In this, its inaugural season, Extreme E will take nine teams to the ends of the earth to raise awareness of climate change challenges. Together with the event crew, they have faced the desert in Saudi Arabia (Desert X Prix), the salt beds in Senegal (Ocean X Prix), the frozen ocean in Greenland (Arctic X Prix). And most recently rocky riverbeds in Sardinia (Island X Prix), with the final race taking place on the Jurassic coast in The UK (Jurassic X Prix).
As official power tool supplier, Bosch Professional have been with them all the way.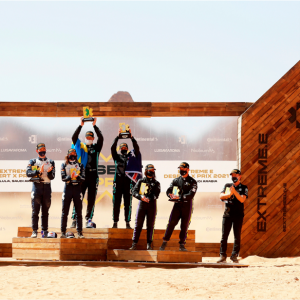 Ready for action – whatever the conditions
"We work in some of the most aggressive environments in the world," says Extreme E event manager Kester Wilkinson. "We need tools that can cope with everything from the sand and dust in Saudi Arabia to the cold, wind and rain in Greenland." From deserts to glaciers, Extreme E needed professional power tools that could weather sand or storm. Bosch Professional has provided a full range of tools to make even the most difficult operations easier.
With no easy access to replacement tools in the wilderness, Extreme E has no margin for error – so durability is vital. "Unless you have reliable, durable products, there's no point bringing them," says production crew member Dougie Dale. "You will end up breaking them and having to throw them away. But these" – he picks up a cordless Bosch Professional 18V BITURBO brushless circular saw – "work perfectly out here."
Although spare tools have been included in case of breakage, there has been no need to use them. "If a tool breaks, we need to have another one," says Dale, "but our Bosch tools are not breaking. We have spares, but they're still in the box."
Ultimate performance with maximum freedom
At the heart of the Extreme E toolkit is a collection of Bosch Professional BITURBO tools, powered by the Bosch ProCORE18V Professional Battery System. BITURBO tools offer cordless freedom and convenience but deliver the same levels of power and performance as corded tools rated up to 1800W.
Built to robust Bosch Professional quality standards, they benefit from advanced brushless motors which are much more powerful, energy efficient and longer lasting than the alternatives. The same can be said for Bosch ProCORE18V batteries, which combine perfectly with BITURBO tools to maximise each other's performance.
A key result of this is longer runtime between charges. When the power eventually runs out, full compatibility between Bosch Professional 18V tools, batteries and chargers enables quick and flexible swapping and charging. Amongst those Bosch products is the world's fastest 18V charger.
The Bosch Professional BITURBO range includes combis, drill drivers, impact wrenches, rotary hammers, saws, angle grinders and more.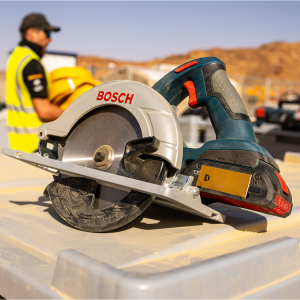 No power grid, no problem
Of all the equipment supplied by Bosch Professional, its cordless tools are the most valuable on site. "We need tools that are reliable and can be deployed really, really quickly," says Wilkinson. "Most of the Bosch tools we have are cordless, which means we can get them out of their boxes and use them straight away. The batteries are interchangeable, so we can just pick up a battery from one tool and put it on another. It's so easy."
Given the remoteness of its locations, Extreme E has to build sites from scratch – often without any power grid. "Obviously, having batteries that charge up and last is fantastic, because we have very little mains power out here," says Dale. "It's not like you can just plug a circular saw into a socket and start cutting. You need battery power, because we work in places where there's no mains power."
In fact, as Extreme E travels from location to location on board the St Helena, a refurbished passenger-cargo ship, the batteries need to hold their charge in storage for over a month through aggressive marine environments – and be ready for immediate use upon arrival.
Easy mobility
After each race, the Extreme E crew has to pack up 50 containers' worth of equipment, charge the tools and start planning for the next destination. "When the weekend's racing is over, we need to break all the site facilities down on the Sunday night, put everything back onto the ship, and go," says Wilkinson. "Confidence that our tools will work when we get them out in more than a month's time is absolutely essential. We're delighted we have Bosch Professional tools which make that possible."