NG Bailey's Freedom business has delivered a Point of Connection Mast – POC-MAST – installation for a 70MW solar farm on the Scottish and Southern Electricity Network (SSEN), the first to be used on their network.
The 213-acre solar farm at the former RAF Lyneham base in Wiltshire was the first to be developed with the Ministry of Defence. It saves 21,000 tonnes of carbon emissions annually and generates enough power to cover the average annual usage of around 20,000 homes.
The location next to an ancient woodland presented several challenges and it initially appeared that the permanent connection would require installation of a new pylon, diversion of an overhead line and removal of part of the woodland. The patented Freedom POC-MAST installation provided an alternative solution, enabling a connection directly onto an existing tower without the need to disturb any of the surrounding woodland.
Each of the two POC-MASTs required were lifted into place in just six minutes, and the total installation took just 10 working days. A new tower and diversion would have taken considerably longer, required multiple outages on both circuits and cost significantly more.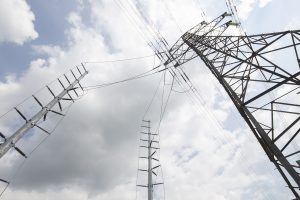 POC-MAST has been developed by Freedom's in-house experts to transform the way new connections to the high voltage electricity distribution network are delivered, making it safer, faster, easier, and more cost-effective for energy projects to get connected to the network.
It offers a viable solution for connecting renewable energy and load projects to a distribution network and is becoming increasingly recognised as a key tool for developers and distribution network operators in today's changing energy landscape.
It was originally developed for a renewable energy project where a traditional connection into an electricity network wasn't possible. Since then, POC-MAST has received substantial investment, undergone extensive testing, and experienced early successes.
Quick to complete, it takes less than 20 weeks from concept to construction, where traditional installations typically take 6 – 12 months. This quicker process can make the difference to whether a scheme is viable or not. Since the first installation, both 33kV and 132kV POC-MASTs have been installed at other locations including a data centre in the South East.
Martin Buckland, Managing Director – Freedom Professional Services, comments: "We developed POC-MAST to offer a easier, quicker and more cost-effective option for energy projects to get connected to the network, so it's pleasing to see our innovative product offering these benefits to SSEN as a distribution network operator, with minimum disruption to their network."
Craig Gilroy, Head of Connections for SSEN says: "I'm delighted that SSEN has been able to use this system at the RAF Lyneham site, providing us with a flexible and quick solution to enable the connection of this substantial solar farm.
"SSEN is a considerate constructor and, as such, we always look to carry out connections with minimal impact on our customers and the environment. The use of this innovative POC-MAST system has enabled minimum disruption with maximum benefit to local customers through the power generated by the site."