Bringing award-winning design to a luxury residential property in West London, Gira wins 'Best Application of the Year' at the KNX UK Awards 2021.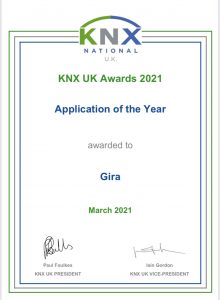 Working in collaboration with London-based architectural practice, GK Architects Ltd and leading system integrators, Mosaic AV, the intention at Chelsea Mews was to bring a higher standard of living with maximum comfort and security. By specifying a host of modern building technology by Gira, it has enabled convenient control of the property's lighting and blinds, room temperatures and door communication, which can be expanded at any time.
In recognition, Gira has won 'Best Application of the Year' at the prestigious KNX UK Awards 2021. The judges commended the team behind the Chelsea Mews project, 'where plans for old-fashioned thinking about control were superseded by an open KNX solution'.
KNX UK says "KNX UK has celebrated another year of success for the open approach to smart building control. Increasingly this global, secure and connected standard provides a platform for systems designers and integrators to work their magic. Even the constraints of a year dominated by pandemic and lockdowns has not held them back: where physical presence has been prohibited, integrators have used connectivity and remote access that enable maintenance and upgrade for long-distance commissioning. The growth of KNX, it seems, is unstoppable and the creativity of the KNX community is cementing its role in shaping the way we control our built environment."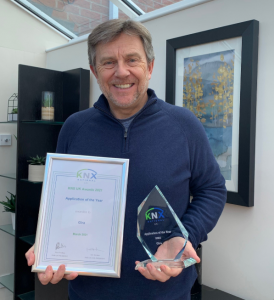 Richard Udell, Project Manager at Gira UK says "We are very proud that our Gira KNX system and solutions have received such a respected industry accolade. Mosaic AV is one of our leading system integrators and long-standing Gira partner and so we were delighted to help them get the recognition they deserve and shine a light on the virtues of KNX."
Alongside the cabled bus system, the Gira G1 operating unit was also specified. This compact, visually appealing control centre for KNX not only saves energy, but also offers greater comfort and extra security. All the control functions can be operated intuitively by touching or gesturing on the high-resolution multi-touch display. The simple operation is ensured by the specially developed Gira Interface, which features a user-friendly symbol system including large fonts and easy-to-understand symbols. The uses are versatile: from lighting and blinds control to room temperature setting, programming of timers, calling up scenes through to door communication.
A modern electrical installation requires quality and durability, and Gira offers this to planners, installers and operators. The multi-award-winning Gira design is beautiful and meets all equipment requirements. It also allows the electrical installation to be visually designed from a single mould. This is not only the case for light switches and socket outlets, but to more than 300 functions in modern building technology for the convenient control of light, heating and blinds as well as door communication, multi-media and security systems.