Hudson Contract is celebrating the 10th anniversary of its scheme to create training opportunities for young people in seaside towns.
The family-owned business, a leading supplier to the construction industry, started sponsoring apprentices in 2011 in response to the lack of options for local teenagers to develop skills and careers in the building trade.
Hudson pays a wage contribution of £50 per person per week for the first year of training with local employers and has sponsored more than 170 apprentices to date.
During National Apprenticeship Week (February 8-14), the company is encouraging young people in Bridlington and Scarborough to consider careers in the sector.
Research carried out by Hudson suggests that nearly one in four people who completed its scheme are now working as self-employed tradespeople; one in three are still employed by the firms which took them on as apprentices and nearly 80 per cent have remained in the area where they completed their apprenticeship, providing a boost for local skills.
Success stories include Thomas Benninger, a 26-year-old from Bridlington who is in the second year of his level 3 apprenticeship with Harrogate-based Martin & Gerard Electrical Contractors and Hull College.
Thomas graduated from university with a sports coaching degree in 2015 but no clear career plan. He decided to pursue a higher skilled trade after stints at a golf club bar and kitchen extraction cleaning company.
Thomas says: "Since the start of my apprenticeship and support from Hudson Contract I feel that I have learned and developed a range of technical skills that have allowed me to start working safely and effectively within the industry."
Thomas adds: "I would highly recommend an electrical apprenticeship course to anyone considering it. I feel that in my situation as a more mature apprentice that I made a positive career move in choosing to retrain. To someone in a similar situation that I was in, I would advise them to strongly consider a career change and retraining through an apprenticeship programme."
Hull College singled out Thomas for one of its Principal Awards last month in recognition of "effort and excellence". Zailie Barratt, director of learner support services at the college, says: "We are very pleased Tom has been recognised for his outstanding efforts."
The college praised his professionalism, politeness, attitude and ability to learn. "He understands just how important an apprenticeship is," adds a spokesperson.
David Jackson, founder and chairman of Hudson Contract, says: "Well done to Thomas and every young person who is making the most of our sponsorship scheme.
"Ten years ago, my wife Lesley and I came up with the idea of giving a young person a letter saying Hudson would cover half of their first year's wages and encouraging them to find an apprenticeship.
"It is a very simplistic approach. Every month, if there is proof of continuance and college attendance and the invoice comes in, we pay it. No more bureaucracy than that.
"It is not easy creating new work opportunities in a seaside town. The trade skill you are giving them is for life. It is a good thing to commit to for your local community.
"I was born and brought up in Bridlington. The success that Hudson affords us allows our business to put a bit back into the local community."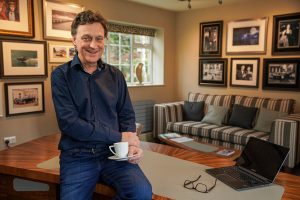 Martyn Price MBE, chairman of the Cross-industry Construction Apprenticeship Task Force, a membership group of which Hudson Contract is a member, says: "We applaud any and all efforts to increase meaningful apprenticeships in the construction industry.
"Now more than ever we must ensure young people have access to structured training."