The new AT2000 CPK Hybrid bundling tool from HellermannTyton offers automotive manufacturers automated and reliable cable bundling that's fully functional in both factory and remote environments.
The AT2000 CPK Hybrid complements its predecessor, the AT2000 CPK – which can be commonly found on the factory floors of car, bus, HGV and EV manufacturers. The new model, however, now allows for cordless usage through the inclusion of an optional 18V battery, allowing bundling and tying to happen virtually anywhere along the production line, even when a power supply isn't readily available with 8000 ties per charge.
The AT2000 CPK Hybrid also provides a 20% speed increase on its predecessor, with a binding time now between 0.65 and 1.0 seconds, making the bundling and tensioning of cables and tubing quicker than ever.
The tool works with cables up to a 20mm diameter and with the ability to bundle and tension up to 1.5 million cables before the blade needs replacing, and offers the same repeat and dependable performance time and time again.
With seven tension levels, five speeds and three quality settings, users are provided with automated, cable-tie applications with recurrent bundling. There are various other settings such as a loop diameter which makes this tool versatile for bundling a range of materials and components of any sensitivity level.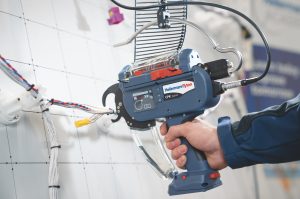 Graeme Morley, Product Manager at HellermannTyton, says: "We are proud to be launching the AT2000 CPK Hybrid as the latest tool in our product range. With EU regulations for mandatory emission targets and a proposed ban on the sale of new petrol and diesel cars from 2033, we have seen an increasing number of requests from manufacturers for tools that help them to improve production line efficiencies to meet the increasing demand. With its guaranteed repeatable and customisable bundling the AT2000 CPK Hybrid is crucial for ensuring vehicle cables are bundled with the correct tensioning. This is especially applicable within the electric vehicle market to avoid electrical power failures. From automotive to bicycles, bundling clips to automated packing lines, the AT2000 CPK Hybrid is a must-have tool for any industry.
"The automotive industry is increasingly reliant on advanced technologies and data that informs their manufacturing processes. We've recognised this in the tool's HT Data Management software which allows for extensive and fully exportable data monitoring of the tensioning process, covering everything from tension level to humidity. All production data is tracked, whilst ensuring optimum tension for every application, minimising production faults."
For increased usability, the ergonomics have also been improved with a new handle design, allowing integration of the battery, reduced weight, and the ability to stand upright on a workbench. Delivered in a practical tool case with dedicated space for tools, three batteries, a charger and a power supply.