As a future-proof, human-centric lighting solution, the SLOTLIGHT Infinity II light line family has paved the way for buildings to serve generations with enjoyment and prosperity. This assurance springs from its sustainable design in alignment with Zumtobel's Circular Design Rules and the system's remarkable adaptability and modular versatility.
These light lines can be effortlessly installed in configurations such as continuous lines, around corners, or creative arrangements like X or T shapes. Moreover, they can be equipped with an IP54 protection rating and emergency lighting upon request.
Reliable for a broad spectrum of applications
The SLOTLIGHT Infinity II is a forward-looking light line family designed to be as straightforward and intricate as needed. To enhance versatility, it is also backwards-compatible with the SLOTLIGHT Infinity I, and it can be utilised as a surface-mounted, recessed, or pendant luminaire, suitable for indoor and sheltered outdoor settings.
These are packaged to minimise material usage while ensuring complete protection during delivery. The 100% cardboard packaging can effortlessly be reintegrated into the raw materials cycle, further advancing sustainability.
The design has been reduced to three core components: the channel, LED batten and optics. The channel shapes the luminaire and is available in three versatile versions:
An installation channel with a surrounding frame
An installation channel for drywall construction
A surface-mounted channel that can also be suspended
The latter accommodates indirect LED modules for uniform ceiling illumination. By reducing the number of channels from eight to three, complexity is significantly diminished, simplifying product selection and installation. The empty channel, devoid of integrated drivers or loop-through wiring upon delivery, allows flexible on-site customisation.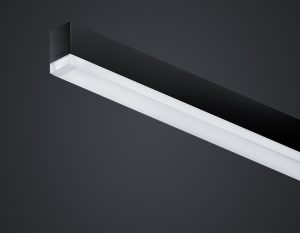 The LED batten houses high-quality, high-performance lighting technology, including control gear and a LED module.
SLOTLIGHT Infinity II offers five distinct optics:
An opal cover
An office cover
A minicell cover
An asymmetric beam cover
The innovative drop diffuser
The drop diffuser minimises repeated refraction, resulting in up to 15% greater light efficiency and reduced glare perception. It also incorporates an indirect light component of 10%, illuminating the ceiling, structuring the room, and expanding the space.
The latest LED chip generation elevates luminous efficacy by over 10%. Depending on the configuration, SLOTLIGHT Infinity II offers up to a 25% increase in light efficiency compared to its predecessors, achieving a luminous efficacy of up to 150lm/W, depending on the chosen options and optics. It is also available with stableWhite (3000K, 4000K) and tunableWhite (2700 to 6500K). What sets it apart is the ability to combine these options, adjusting the balance between direct and indirect light. Additionally, tunableWhite can now be employed for indirect lighting. The updated product configurator allows the combination of different parameters.
A foundation for light and infrastructure
SLOTLIGHT Infinity II enables not just parallel lines but also louvre or cross-shaped lighting installations, thanks to newly designed connection modules in L, X, and T shapes and 90-degree corner connectors. This light line serves as the basis for an advanced lighting infrastructure that can be seamlessly integrated with downlights, spotlights, or sensors for digital services in the future. It utilises a seven pole terminal, incorporating three phases and two lines each for DALI and emergency lighting.
Conversion kits for straightforward light retrofitting are available. Zumtobel has integrated loop-through wiring into the LED batten, significantly reducing the required screws. Only the ballast is now affixed to the batten. This streamlined approach simplifies assembly and facilitates disassembly, particularly during renovation projects.
Secure and always protected
With its IP54 protection rating, it is fully shielded against splash water and dust from all angles along its entire length. A new foldable end cap gasket ensures a dependable seal, even in the joint areas. Additionally, SLOTLIGHT Infinity II can be equipped with emergency lighting functionality in 250mm increments, ranging from 1-2m. Whether in an office building or educational institution, emergency power generators and battery packs guarantee the safety of building occupants.