Janus Technology gave peace of mind to Homeplay and their client when it came to controlling heating and air conditioning in a new-build property in Kingston, Surrey.
The combined Janus Heatmiser/Coolmaster driver has been designed for use with the Control4 home automation system and offers the ability to provide two-way control of the Heatmiser underfloor heating system as well as Coolmaster air conditioning, from a single unified interface that provides enhanced features such as easy save and recall of schedules for the entire house. It supports complex set-ups with multiple 2-pipe systems, allowing air-conditioning to be used as a boost to underfloor heating for those very cold days.
James Ratcliffe, Managing Director of Homeplay, elaborates: "The Janus 'special sauce' is that it takes both the Heatmiser and Coolmaster systems and it melds them together, so there's an interlock. It means that the heating and air conditioning aren't fighting against one another. Instead, there's one thermostat that can be used with Control4 (it has heat, cool and auto modes easily selectable from a single interface) rather than one thermostat for heating and another one for cooling. It makes control and integration with Control4 so simple, it's a joy."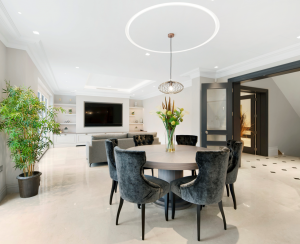 For the 15,000 square foot Kingston project, with six bedrooms and a pool, Homeplay and their client opted for the Janus driver because they'd both had previous experience of working with it. In fact, the software was built specifically for both parties.
"We've done several houses with the Janus driver for this client – we had it developed for him in the first place. We went to Janus and said, 'can you build a driver that does this?'" says James, whose company also carried out the full smart home installation on the Kingston property, including a home cinema, security, distributed TV and audio, a data network and lighting.
The air conditioning units were all hidden away, in the ceiling, the wall and the joinery. Thanks to the Janus software and its compatibility with Heatmiser and Control4, there were no visible thermostats – just one invisible temperature sensor in each room, which was plastered over and so flush to the wall.
"Heatmiser is the standard for this type of application. It's straightforward and inexpensive," says James. "Builders, electricians and plumbers like it – and so do integrators, because it's controllable and gives us a point of demarcation. If there's a problem with the heating, we can identify precisely where that lies and as an integrator, we can draw a line on who is responsible for any system issue.  It's easy for the homeowner to see that too. From the client's perspective, they also get a much more efficient way of controlling the system."
"From our point of view, it was really quite easy – we connected the already-working Heatmiser system to our Control4 platform using the Janus driver," adds James.