A data-focused study by construction tool specialists, Saxton Blades, has showed the most popular trades on TikTok according to its audience. Research suggests that 79% of job seekers have used social media to help them find their job in the last year.
Combining the news of TikTok teasing the creation of a job site aimed to help it's 60% of Gen Z users find employment, with data stating that 73% of millennials found their last position directly through a social media platform – it seems that social media is a proven and effective way to seek and find employment.
Comparing social media's influence in employment, with recent data suggesting that only 10% of teenagers want to work in the construction industry, our study looks into what trade jobs TikTok's younger audience are most interested in – aiming to prove that the construction industry is still a desired career path.
After analysing over 17.9 billion views across multiple trade-related posts, the results show that Welding is the most popular career path in construction, taking the top spot with over 2.9 billion views to date on industry-related posts. Supporting this, Welding is also one of the top 3 most popular trades on TikTok for a female-focused audience – gathering a huge additional 13.2 million views to date from the hashtag #welderwoman.
Bricklaying takes second place with over 2.9 billion views. Bricklaying is also the most followed trade according to top trade accounts, accumulating a combined total of 3.3 million followers and making up 5 out 20 (25%) of the most popular trade accounts on TikTok.
And finally, Engineering rounds off the top 3 with a total of 2.5 billion views.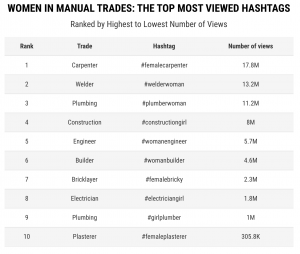 Although only 14.5% of the UK construction workforce is female, and that drops to just 2% when it comes to skilled manual trades, TikTok is quickly changing the attitude towards women in construction. Rapidly becoming a thriving hub for young women within the industry and inspiring its younger audience.
With a combined total of over 42 million views, the study also shows the top 10 most popular trades on TikTok for a female-focused audience.
The top 3 trades include Carpentry (17.8 million views), Welding (13.2 million views), and Plumbing (11.2 million views). The growing shift of women within the industry is further supported by popular hashtags such as #womeninconstruction gaining over 7.3 million views and quickly growing in number.
As graduates face the highest unemployment rate since 2008 and social media's influence on employment for young people becomes more dominant, I believe these results will be both insightful and interesting to your reader.