Klein Tools have teamed up with City Electrical Factors to launch a limited-edition pair of 6in VDE insulated cutters to raise money for Macmillan Cancer Support. For every pair of VDE cutters sold, £5 will be donated to the charity.
The iconic orange and grey handles have been swapped for orange and green, and the Macmillan logo has been added to the blade, creating a must-have tool for Klein Tools collectors.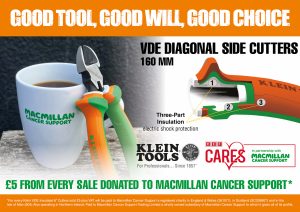 Super Rod/Klein Tools UK, Founder and Managing Director, Malcolm Duncan says: "Macmillan Cancer Support does whatever it takes to help people living with cancer to live life as fully as they can. It is a charity that so many trade professionals in the electrical industry hold close to their hearts and we are extremely proud to be supporting CEF in this fantastic initiative."
The cutters are VDE certified and 1000V rated for maximum safety when working around live wires and feature Klein Tools' trademark three-part insulation. This special insulation has a white underlayer to act as a visual warning sign to installers that the insulation layer in the handle may be compromised. Also, the integral thumb guards help prevent hand contact with conductive parts.
Manufactured in the US and designed specifically for the UK market, Klein cutters provide a clean cut and are induction hardened for durability and longevity. Like the standard version, the limited-edition cutters also feature a hot-riveted joint for smooth action-preventing handle wobble.
The limited-edition cutters are available exclusively from City Electrical Factors, in store at their 390 locations across the UK and also online.
Macmillan Cancer Support has been CEF's chosen charity partner since 2017. In 2020 CEF committed to partner with them for the next five years with an ambitious aim of raising £1 million in that time.
www.MacmillanCancerSupport.com