Knightsbridge has enhanced its best-selling range of screwless sockets and switches with the introduction of two new finishes: smoked bronze and anthracite.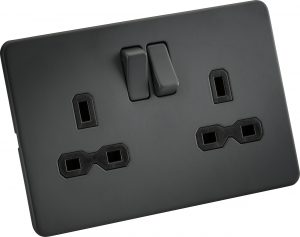 Smoked bronze is an excellent alternative for customers looking for a subtle, cool finish that chimes with the trend for more natural, earthier tones. Anthracite has grown enormously in popularity as a go-to colour for home décor including doors and windows, offering an understated yet high quality feel.
Both finishes are available across a comprehensive range of products including grid accessories and a modular faceplate. New multimedia combination plates are also available configured with fast charge A+C USB ports, unique to Knightsbridge, to meet both the commercial – e.g. hotels – and residential need to bring together telecoms, network and charging requirements.
Offering a contemporary aesthetic, the two new arrivals provide yet more choice for discerning customers who like wiring accessories that bring a modern twist in terms of style, functionality and versatility. Other finishes in the range include matt white, matt black, brushed or polished chrome, black nickel and polished brass, all crafted to ensure lasting good looks.
The discrete lines of the screwless range – a profile of just 4.3mm – with its concealed screw fixing mean that the finished installation looks elegant and unfussy, remains untarnished and adds a touch of class and refinement as well as practicality.
Constructed from premium grade components and backed by a 15-year warranty, the Knightsbridge screwless range of switches and sockets promises total peace of mind and outstanding performance.