As the demand for USB charging points increases hugely, so does the demand for the speed and power they can deliver and Knightsbridge has jumped ahead of the game with the release of its latest charging solutions, which offer up to 45W PD (Power Delivery) over a USB-C port and 18W QC (Quick Charge) over a USB-A port.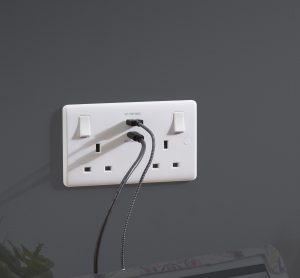 For the first-time, power-hungry gadgets (like laptops) may now be charged straight from wall outlets using a 45W USB-C port and without the need for bulky adapters.
The Knightsbridge charging solution can also charge QC devices (mainly android-based smartphones) at up to 18W, allowing for a quick charge of up to 50% in under 30 minutes with compatible smartphones. Power is shared when both ports are active at the same time.
The high-performance 45W USB wall charger suite comprises two 230V 13A two-gang switched sockets and three 50mm x 50mm charging modules, depending on finish.
Featuring ever-more popular outboard rocker switches, the two 13A 2G switched sockets in curved edge or square edge moulded white designs are available with dual earths for high integrity earthing, angled top-down terminals for quick installation, and are designed to accommodate 25-35mm back boxes (depending on wiring conditions).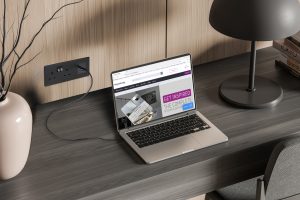 The 50×50 modular inserts are available in white, grey, and black and may be paired with a variety of modular and multimedia combination plates, allowing for a bespoke creation.
As it is critical that charging cables can withstand the power required, Knightsbridge has also developed 60W A-C and C-C cables, as well as a 100W certified USB-PD C-C cables, to round up the collection.
Finally, all Knightsbridge 45W USB 50mm modules are warrantied for one year; while the 13A two-gang switched sockets carry a two-year warranty.