Christmas is a time for celebration and for households across the UK to unbox all those decorative lights and add a touch of the festive spirit to their homes, both inside and out. And thanks to Knightsbridge, the age-old problem of too many plugs and not enough sockets is a thing of the past.
Now lighting the Christmas tree, windows, house front and garden is simplicity itself with its range of smart plugs, extension leads and outdoor sockets. The 16A smart plug, 10A three-gang smart extension lead with quad USB charger, and smart IP66 13A 2G outdoor socket outdoor, bring unrivalled flexibility and control to any seasonal displays.
Designed to be quickly configured into the user-friendly SmartKnight app, the wiring accessories can be controlled via a smartphone. To get started the user simply downloads the SmartKnight app to their smartphone from either Google Play or the Apple App store and follows the instructions.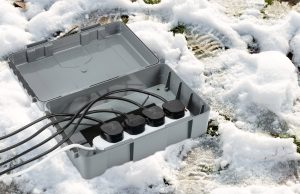 Once downloaded they will be able to take advantage of a variety of features to give them finger-tip control over their Christmas lighting arrangements, including timers, schedules, scenes, and geo-fencing (so any lighting can activate when the homeowner returns). And they can also issue instructions to either Alexa or Google Assistant to turn lights on or off.
And just to make sure all outside lighting displays are impervious to our great British winter, there's a Knightsbridge range of IP55 weatherproof boxes to accommodate and protect extension leads that might be powering those Christmas illuminations.