With Christmas approaching, pliers' specialist KNIPEX has given the festive season even more cheer! The company is again launching its popular advent calendar on 1st December – and there's a prize to be won every day.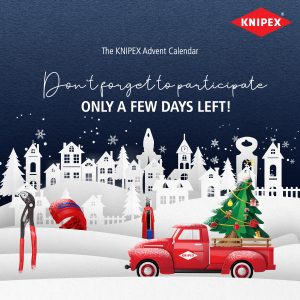 To enter is simple; open a window and answer a question every day throughout December. All correct answers will go into a draw and the winners will be selected at random. There will be up to five prizes awarded each day, which will include innovations from 2021 such as the KNIPEX CutiX (90 10 165 BK) and the incredible Pliers Wrench XS (86 04 100).
In addition, the big prize to be won on December 24 is a KNIPEX BIG Basic Move Plumbing kit (00 21 06 HK S), an incredible addition to any toolkit or workshop.
To be in with your chance to win make sure to answer the questions each day from 1st December. The KNIPEX advent calendar is ready to make the festive season a very jolly one.