Specialist installations often require specific tools and the new KNIPEX Tool Case for Photovoltaics (97 91 04 V01) is packed with the essential cutting-edge tools designed to make solar PV installations easier. The robust tool case includes a variety of useful tools packaged in foam inserts, which provides protection and convenience for solar PV installers.
Included in the case is the KNIPEX Crimping Die (97 49 66), tailored exclusively for MC4 (Multi-Contact) solar cable connectors. With a capacity of 2.5-6.0mm², this crimping die guarantees rock-solid connections. The tool case also contains a locator (97 49 66 1) and a set of mounting tools for solar cable connectors (97 49 66 2), as well as cable strippers and cutters.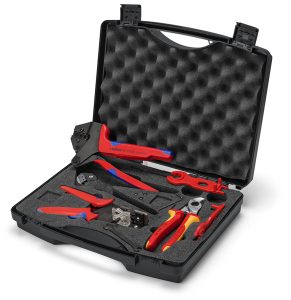 The KNIPEX Precision Insulation Stripper (12 12 11) is equipped with specially adapted blades for smaller stripping capacities of 1.5 / 2.5 / 4.0 / 6.0mm². The set also features the KNIPEX Crimp System Pliers (97 43 200 A). With their exchangeable crimping dies and factory-calibrated crimping pressure, you can achieve consistent and professional-grade connections every single time. KNIPEX understands the importance of clean and accurate cable cutting. The tool case includes cable shears (95 16 165), capable of cutting copper cables up to Ø15mm.
The tool case's foam inserts, tailored specifically for the tools, crimping dies, and locators, ensures that everything stays neatly in place. That means there will be no more scrambling for misplaced tools or worrying about damage during transportation. The shock-resistant plastic case is also built to withstand the toughest conditions, keeping your tools safe and secure on every job site. With its compact dimensions of 345 x 80 x 280mm, it is easy to carry, ensuring you can take your toolkit anywhere your solar PV installations take you.
Click here for more latest news.