KNIPEX has expanded its Tethered Tools range, which is now available for over 45 models of the company's pliers. Working at heights is associated with increased risk and this was the reason KNIPEX initially developed its flexible fall protection system. The expanded Tethered Tools range brings safety and reassurance to users of tools working at height or in locations where falling tools could be a risk.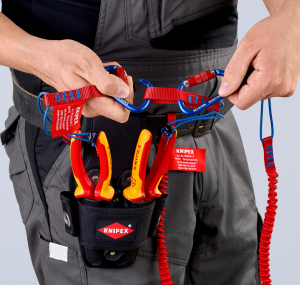 The components of the flexible three-part fall protection system are perfectly coordinated. The tether attachment on the inside safeguards the ergonomics of the tool. The core element is the flexible tether, which permits a large operating radius and comfortable handling of the secured tool and stretches to a length of up to 1.5 metres when under strain. An adapter strap primarily guarantees that the tool can be switched safely, quickly and without problems from the tool bag to the tether. As with the tether, it can withstand strain up to a weight of 1.5 kg and is therefore also suitable for use with large tools.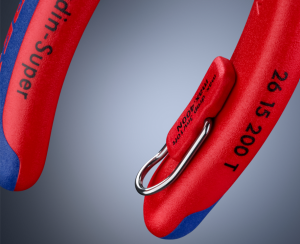 The strap itself is made of a sewn flat belt and cord and can be directly secured to the wrist, belt or climbing gear. The robust and light carabiner made of aluminium completes the set. It is space-saving and simple to operate, with large safety margin. A catch increases the tensile strength to a static tensile load of 780 kg, while the screw lock prevents accidental opening. In order to offer users several securing options, all parts are also available separately.
Hazards caused by falling tools are significantly reduced as a result of the system and can protect against serious injuries, damage to property or loss of the tool. There are a huge number of versatile applications they are relevant for including roofing, building, the events industry, excavation work, wind turbine installation and well construction.
The KNIPEX tool securing system is also suitable for its wide range of VDE-tested screwdrivers, corresponding to DIN EN/IEC 60900 with fall protection. These are equipped with a very strong tether attachment point that is welded tightly to the handle.