With the KNX sets CasaConnect, Elsner Elektronik presents a new concept for KNX beginners. Typical KNX devices for an apartment or for a house reach the customer as a pre-configured package. It includes a weather station, control panel, room controller, smoke, motion and water detectors and actuators for heating, sun protection, light and for switching. All components have already been addressed at the factory and linked together in a KNX project.  
After installation, they communicate with each other immediately without the customer having to use the ETS. The individual set-up of the device functions is done at the CasaConnect KNX central unit. This is possible even for lay persons thanks to the clear menus. Via the remote maintenance function, the user can also get help with the settings without the need for a specialist technician to visit.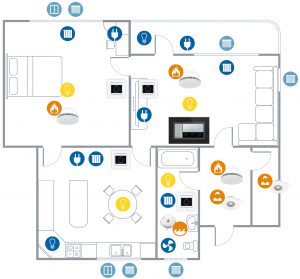 The sets are suitable for enthusiastic smart home beginners and electricians who have so far been deterred from entering the worldwide KNX standard by the complex KNX integration. However, the simple set-up also has advantages for property developers who want to quickly and cost-effectively equip apartments and houses with a future-proof standard. Because even if it is easy to get started, all devices are fully-fledged, certified KNX products and the project file is supplied on a memory card. So, if the starter set is not enough for you now or in the future, you can expand it at any time with KNX products in the classic way via the ETS.   
The basis of the sets is the powerful CasaConnect KNX central unit. Via the display, the user has access to manual operation and automatic setting of light, shading, ventilation and room climate, to timers and scenes. The central unit is also available for purchase individually and can be integrated into any KNX project.