Ledvance has launched a new range of OSRAM NAV LED retrofit lamps to provide impressive street lighting in replacement of high-pressure sodium vapour lamps (NAV).
The OSRAM NAV LEDs offer an efficient LED alternative in terms of consumption and maintenance, leading to efficient light, lower costs and simple replacement. The range is the perfect retrofit solution for the direct replacement of conventional NAV lamps in pedestrian zones, parks, area lighting solutions and streets.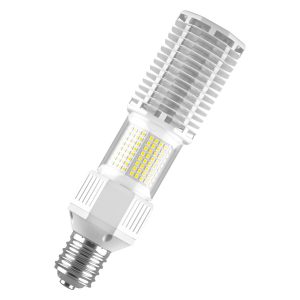 Commenting on the new range, Nelo Neves, Managing Director of Ledvance UK, says, "The new OSRAM NAV LED retrofit lamps are designed to target efficiency through careful attention to consumption and maintenance. Not only do these lamps consume less energy than conventional high-pressure sodium vapour lamps, but they also reduce maintenance costs with an impressive lifetime. We're thrilled to be launching this retrofit solution to ensure that outdoor spaces are safe and well-lit to be enjoyed by all."
Ledvance NAV LED retrofit lamps offer a very high efficiency of up to 185lm/W with a lifetime of up to 50,000 hours. There is potential for additional savings through compatibility with CCGs (conventional control gears) and igniters without additional rewiring, leading to the opportunity for night-time switching and dimming during hours of low traffic density. The lamps consume up to 52% less energy than conventional high-pressure sodium vapour lamps, whilst still offering a similar light distribution. The lamps also come with IP40 protection and high surge protection of up to 4kV.
Ledvance street lighting solutions come in environmentally friendly cardboard packaging with all relevant product information immediately visible on the outside of the box.