Fibre optic USB extenders allow USB signals to be connected far beyond the limits of traditional copper cable solutions. The Lindy 100m fibre optic USB 3.2 Type C Extender supports SuperSpeed transfer rates of up to 10Gbps. This Extender is a complete and compact two-part hardware solution comprising of a transmitter that connects directly to the user's computer and receiver that connects to the USB peripheral, using 'off the shelf' LC duplex fibre cabling.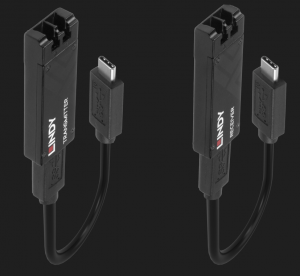 The extender is ideal for long distance use with remote desktop links, industrial control systems, surveillance control rooms and external storage applications. This device is fully compatible with and can be used to extend signals from 4K USB webcams and video conferencing systems. Utilising fibre optic transmission, this extender provides high resistance to EMI and RFI, perfect for use in 'noisy' areas such as hospitals, large retail installations or industrial buildings.
The fibre optic USB 3.2 Type C Extender is supplied with a USB Type A to Micro-B cable which can be attached to a second USB port or to a USB power supply (not included) should additional power be required.
With a two-year warranty this easy to install solution is available from the Lindy website.