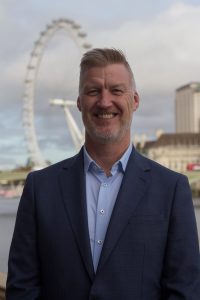 Mike Andrews, Chief Executive Officer at NAPIT takes time to reflect on progress made during 2022 and looks ahead to what 2023 has in store.
Whilst 2022 hasn't been exempt from the challenges felt by all of us due to the COVID-19 pandemic, it does feel like in the main, we have moved away from lockdowns and testing requirements. However, 2022 has certainly not been without challenge, with the conflict in Ukraine contributing to construction supply issues and a national energy crisis and an unsettled political climate causing uncertainly in investment markets I think it would be fair to conclude that the United Kingdom, and indeed the world, have experienced another turbulent year.
Mike says, "Despite this uncertainty, I have continued to have a positive and forward-thinking mindset, and NAPIT have remained committed to serving our customers, and enhancing their experience with us through the expansion of our offering."
During 2022, NAPIT launched two new schemes to provide the verification of competence in emerging sectors: the BAFE DS301 Domestic Fire Alarm Scheme to evaluate the competence of those working in the design, installation, commissioning and maintenance of fire detection and fire alarm systems in domestic properties.
Mike continues, "We are the first, and currently the only Certification Body to have launched Electrical Energy Storage Systems (EESS) certification in partnership with MCS, to provide third party verification of the competence of those installing EESS.
"With the cost of electricity and gas soaring, we have experienced high levels of interest in our Electric Vehicle Charging Point (EVCP), solar PV and EESS training and membership services. Within the past year, we have trained 1,930 individuals throughout our network of NAPIT training centres on these courses alone and opened our Low Carbon Technologies Centre of Excellence in Mansfield. It is fantastic to see so many businesses investing in training and certification, to meet the demands of customers and by doing so, future proofing themselves and supporting the government meet its net zero targets. My commitment to enhancing the standards of safety across the sector remains at the heart of everything NAPIT does."
This can be seen through the launch of NAPIT Foundation which supports students, colleges and training establishments across the UK by providing expert technical support and resources. The continued secretariat support and sponsorship of the Electrical Safety Roundtable, which celebrated its 10-year anniversary this year, is another example of NAPIT's commitment along with the delivery of 17 webinars, the NAPIT EXPO's which saw record attendance and provided CPD on the changes introduced by Amendment 2 to the BS 7671 Wiring Regulations and its attendance at a wide range of industry events.
Mike adds, "It's been great to get out to meet and hear directly from our customers this year and is something we are looking to build on in the new year."
The NAPIT senior management team continue to engage closely with important technical and standard-setting committees and regulators, representing the interests of the customers and consumers who rely on the delivery of competence and quality.
Mike says, "We have supported installers through the publication of free guidance documents and guidance to support the understanding of The Renting Homes (Fitness for Human Habitation) (Wales) Regulations 2022 to name just a few. We truly are committed to enhancing knowledge and understanding within the sector to drive up and maintain standards and compliance."
Throughout 2022, NAPIT also invested in its information security policies and procedures and demonstrated its commitment to customer data security. Mike is proud that NAPIT Services achieved certification for ISO 27001 compliance this year. He believes that maintaining standards applies equally to NAPIT as it does to its customers, and has worked hard to retain its quality systems certification to ISO 9001 and the third-party accreditations and authorisations that allow NAPIT to deliver our scheme and training activities.
Mike concludes, "Looking ahead, we are actively engaging with the government's focus on reforming the Building Safety Regime, with a view to ensuring our members are well placed to play their part in the new structure. With the future looking set towards delivering further electrification of the grid, decarbonising heating in buildings, enhancing the energy efficiency of buildings and driving up competence, safety and quality standards, I will remain focused by working with regulatory and industry stakeholders, which will allow us to enable our customers to continue to play their important part in improving building performance and safety into 2023 and into the future."