Among a series of new product launches, Makita has added two 12Vmax CXT multi-line lasers to its extensive range of site equipment. The multi-line lasers project one horizontal and two vertical 360° lines and include a precise self-levelling feature to enable simple setup, layout and alignment.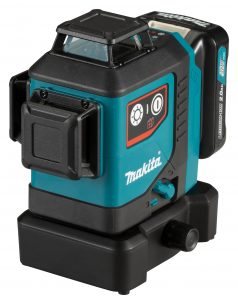 The 12Vmax CXT Red Multi-Line Laser (SK700DZ) and 12Vmax CXT Green Multi-Line Laser (SK700GDZ) are versatile and durable with a range of features to make work on site as simple as possible. The Red Multi-Line Laser has a range of 25 metres in each direction (50m diameter) while the green lasers of the SK700GDZ provide an increased range of 35m (70m diameter) and better line visibility in brighter conditions. The robust units are IP54 (dust and splash water) rated, have an operating temperature range of -10 to 50ºC and feature a ¼ inch tripod thread for easy mounting.
Each vertical and horizontal laser emitter on the tool projects four lines to create up to three 360-degree laser lines. Depending on what is required, users can choose various combinations of the laser lines in addition to the full three line configuration. Single horizontal or vertical lines, vertical and horizontal combined or both vertical lines (front to back and side to side) are available. It also includes three brightness settings for optimum visibility depending on the environment.
The multi-line laser units feature a rotary base with eccentric rotation mechanism, which reduces set up time, by enabling the laser body to rotate without changing the position of the defined plumb point. With a dial for fine adjustment, the vertical laser lines can also rotate around the defined plumb point by up to 10° left and right.
In addition, the pendulum operated self-levelling system, which is accurate to ±4º, makes it simple to ensure the lasers are level, even on uneven ground. The units also feature a pendulum lock where self-levelling is not required and to protect the laser when in transit.
Part of the Makita CXT platform, the compact 12Vmax batteries used in the multi-line lasers provide excellent runtimes, with up to 22 and 14 hours from a 4.0ah battery for the new red and green multi-line lasers respectively.
The operational range of both multi-line lasers can be increased to 70 metres (140m diameter) with the use of the Makita LDX1 Line Laser Receiver Set (sold separately), which also enables effective, accurate use of the laser line in bright natural light.
Kevin Brannigan, Marketing Manager at Makita UK says: "The new 12Vmax CXT Multi-Line Lasers have been designed for use on a range of site layout, first- and second-fix tasks. The multi-line configuration and self-levelling mechanism makes it simple to align and layout everything from doors and windows, floors, pipework and electrical installations to tiling, lighting and kitchen and bathroom installations."