Makita has launched its latest XGT 40VMax vacuum cleaner, providing tradespeople with a powerful cleaning solution that they can rely on for quick and efficient clean up at the end of the working day.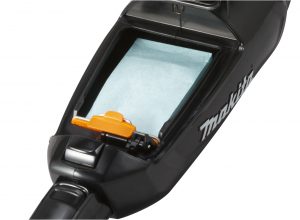 The XGT 40VMax CL002G Brushless Vacuum delivers the high output needed to tackle large areas and achieve a spotless clean up with ease. It offers an impressive sealed suction of 21kPa and suction power of up to 125W. Thanks to the option of four power modes, users can also adjust the output to suit different surfaces. It also comes with a redesigned nozzle for efficient floor and carpet cleaning when working in furnished premises.
As part of Makita's powerful XGT battery platform, professionals can use their existing XGT batteries to power the CL002G so that they can easily swap between construction and vacuuming tasks. The CL002G's compact design means that it can be easily stored in the back of the van and transported to and from site when needed.
As well as a cloth dust bag, the CL002G is also compatible with a paper disposable dust bag for easier and mess-free disposal. The redesigned filter structure also works to minimise dust ingress to the motor, ensuring maximum performance efficiency and extending the product's life cycle.
Despite its powerful performance, the CL002G is quiet when in operation (with sound power levels as low as 54dB(A)), making it ideal for use in occupied premises.
Kevin Brannigan, Marketing Manager at Makita says: "Our XGT range has been specifically designed to offer the increased output and optimum performance needed for professional applications, and we are delighted to extend our XGT collection to offer tradespeople powerful cleaning solutions that can aid them with quick and efficient clean up at the end of every job."