As part of its new October product releases, Makita UK has revealed a number of new 40VMax cordless machines that have been added to its exciting XGT range. The new high-powered products provide a one-battery solution to handle the most demanding jobs and environments, without sacrificing run time.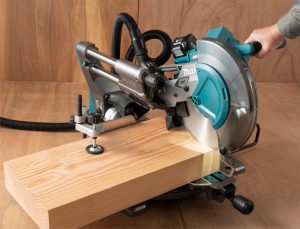 40VMAX LS004G XGT MITRE SAW
Driven by a 40VMax brushless motor, this XGT 260mm Slide Compound Mitre Saw provides a no load speed of up to 3,600rpm for high power cutting that is comparable to corded machines.
The rail-forward design allows users to maximise workspace as the machine can be positioned next to a wall and its single sliding system enables smooth operation to produce superior cuts.  Its 48o bevel range and 60o mitre range are easily adjusted with quick lock and release, making it simple to achieve the cut required.
This impressive tool is also packed with safety features including Auto-Start Wireless System technology (AWS), enabling the machine to connect to compatible dust extractors via Bluetooth. When applied, the dust extractor is powered on and off while the saw is in use. An LED light improves task visibility, and for greater safety, an electric brake stops the blade in seconds.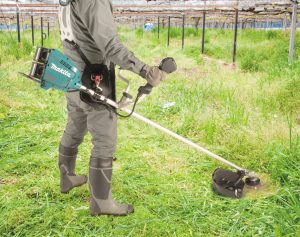 80VMAX UR012GZ04 XGT BRUSH CUTTER
Delivering up to 6,400rpm and a maximum power output at 2.0kW, the powerful 80VMax (40Vx2) XGT Brushless Brush Cutter provides users with performance similar to a 40cc class engine grass trimmer, making this machine ideal for heavy duty applications.
Users can adjust speed according to the task with 3-stage control, and thanks to Makita's innovative Automatic Torque Drive Technology (ADT), which adapts the cutting speed according to the load conditions, users can trust that the machine is always working at its optimum.
The UR012GZ04 also features Active Feedback Sensing Technology (AFT) that shuts down the tool if the rotation speed suddenly slows, protecting the user against kickback. And the useful reverse switch removes any material that gets stuck in the blade, reducing user downtime.
On the announcement, Kevin Brannigan, Marketing Manager at Makita UK says: "Our XGT platform was designed to provide professionals with even more power to meet high demand applications with ease. All of our XGT solutions are engineered with built-in programming, that provides digital communication between the battery and the tool, so that both work together for optimum performance and sustained power.
"We are pleased to expand the Makita XGT range with our latest 40VMax and 80VMax equipment and tools, so that professionals can fully experience a truly cordless job site."