Makita has expanded its XGT 40VMax range of machines to offer professional users even more high-power products to aid their efficiency and productivity on site.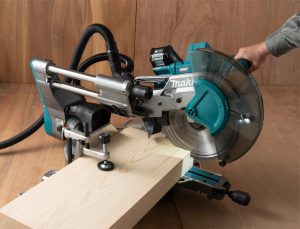 LS003G XGT 40VMax 305mm brushless slide compound mitre saw
The new LS003G has been designed for high precision and consistent smooth cutting. It has an LED lamp that casts a helpful shadow of the saw blade onto the workpiece, acting as an accurate cutting line. The LS003G delivers an impressive no-load speed of up to 3,600rpm and has a maximum mitre range of 60° to 60° (L-R) and bevel range of 48° to 48° (L-R). For maximum versatility, the LS003G's rail forward design means that the rear of the machine can be placed close to the wall, and the subbase supports a wide workpiece.
For improved safety, the LS003G also features Makita's Auto Start Wireless System that automatically connects the LS003G to compatible dust extractors via Bluetooth so that when the machine is in use, the dust extractor automatically runs.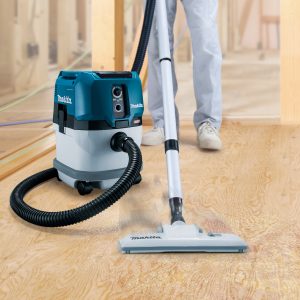 AS001G XGT 40VMax brushless dust blower
The AS001G is an incredibly versatile machine and can be used across a range of tasks including tool maintenance and cleaning, inflating and deflating inner tubes, blowing dust away from equipment and cleaning air conditioner filters thanks to its blower and vacuum modes. For increased usability, it delivers a maximum air volume of 1.1m3/min, sealed suction of 10.3kPa and air pressure of 20.6kPa. With four air volume options to choose from and one touch nozzle replacement, it is easy to adjust the tool to suit the task in hand.
The AS001G also includes a filter to prevent foreign matter from being sucked in and damaging the tool.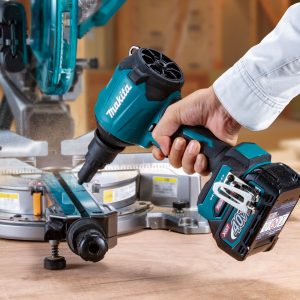 VC001GL and VC003GL XGT 40VMax L-Class dust extractors
With Makita's powerful XGT 40VMax technology at their core, the VC001GL and VC003GL dust extractors deliver impressive output that is equivalent to corded alternatives. Both machines can house two XGT 40VMax batteries so that when the first battery runs out of charge, the second one automatically kicks in to keep the machine running for longer. To improve productivity further, the VC001GL and VC003GL have large tank capacities of 8 litres and 15 litres, preventing the need to regularly down tools to empty the dust bag.
With numerous power options available, including 'high power' and 'quiet' modes, users can easily select the most appropriate setting for the application. The VC001GL and VC003GL can also be used for both wet and dry vacuum cleaning, providing professionals with a solution for every job. For wet vacuuming, the machines benefit from IPX-4 water resistance rating.
The VC001GL and VC003GL's quiet operation means they can be used in occupied premises with minimal disruption to the building's occupants.
CW001G XGT 40VMax Cooler/Warmer Box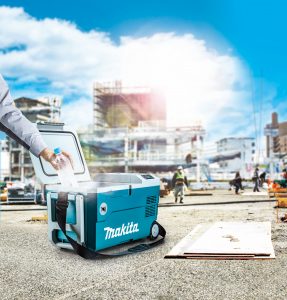 The CW001G is the perfect jobsite companion. This 20 litre cooler and warmer box has seven temperature settings ranging from -18oC up to 60oC, to either cool or warm food and drink items, for year-round usability. It also features a bottle opener and USB output port for charging mobile devices. For ease of transportation, the CW001G has large 100mm caster wheels and a carry handle with grips for added comfort.
The CW001G can be powered by four sources, so it can be easily added to any tradesperson's Makita collection. Users can choose from using their XGT or LXT batteries, or a car DC utility socket, or an AC adapter.
Kevin Brannigan, Marketing Manager at Makita says: "At Makita, we are dedicated to offering tradespeople a wide range of cordless solutions to suit any job or on-site need. Our XGT range of products are ideal for those looking expand their existing Makita cordless toolkits with a selection of even more powerful models suited to higher demand applications."