Makita has launched a new self-balancing area site light – the latest addition to its range of LED site lighting solutions. The DML810 18V Self Righting Site Light LXT delivers up to 5,500 lumens (lm) and 360 degree illumination with the option for corded or cordless operation.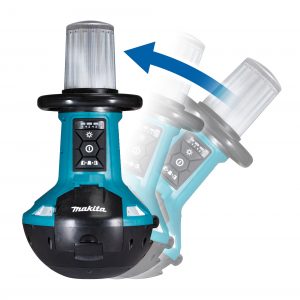 The self-balancing design of the Makita DML810 means that it remains upright even when knocked or bumped, making it ideal for busy sites. The 202 super luminous daylight white LEDs provide high quality illumination without the heat of halogens or incandescent lights. It features three operation modes, High (5,500 lm), Medium (3,000 lm) or Low (1,500 lm), and three illumination direction modes – full 360 degrees or 180 degrees to the left or right.
For versatility, the DML810 offers corded or cordless operation and utilises two Makita 18V LXT Lithium-Ion batteries, using one battery at a time. This means the light delivers up to 15 hours of continuous illumination on Low with two 5.0Ah 18V batteries, and over 3 hours on High. When using AC power, the batteries function as a power back up to keep the area lit if the power fails.
This durable light unit is 787mm high and 420mm wide and is both dust and water resistant, with an IP54 rating when using battery power. It is also possible to connect up to 8 units together using the AC inlets and outlets to deliver light across the whole job site area. Convenient carrying handles and a balanced side position allow for easy movement, transportation and storage.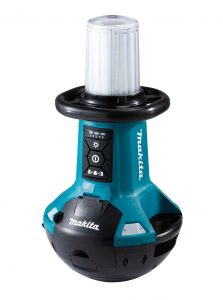 With over 270 products compatible with Makita's Lithium-ion LXT battery technology it is one of the largest battery / cordless platforms in the world. This allows users to use just one battery type and seamlessly swap between different pieces of equipment as required.
Lyndsey Bailey, Assistant Product Manager at Makita UK says: "The DML810 18V Self Righting Site Light has been engineered to provide a robust, durable and versatile lighting solution that is suitable for the toughest site conditions. The high quality illumination makes work easier and safer, especially as the LEDs eliminate the hazards associated with the heat of halogen and incandescent lights."