Thanks to its reliable battery performance and product innovation, Makita has been the power tools manufacturer of choice for Exeter-based company Balustrade SW for a number of years. Its team of technicians, engineers and installers have relied on Makita's cordless 18V and Twin 18V (36V) LXT machines to construct balustrades, balconies, staircases and handrails across both domestic and commercial buildings. However, due to the heavy-duty nature of the work, the team wanted to expand its existing collection of Makita kit with even more powerful models.
Steve Cupit from Balustrade SW says: "We have been using Makita's 18V and Twin 18V LXT machines for around eight years. They are brilliant products and the ability to swap the LXT batteries between tools is great, as we can quickly and efficiently change between tasks to maximise productivity. However, jobs like cutting through thicker stainless-steel rods and deep into masonry require additional power and when Lee Baddeley at Exeter Tool Shop explained that Makita had recently launched its XGT 40VMax models, I knew that they would be the perfect addition to our toolkit."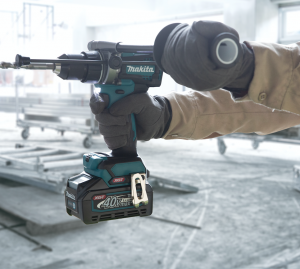 Makita's XGT 40VMax machines have been designed for industrial, higher demand applications and offer output that can rival the high power of corded tools, making them the ideal solution for Balustrade SW Ltd. As the team regularly work outdoors and at height, the XGT 40VMax cordless machines offer maximum flexibility and additional safety benefits as there is no risk of trips from trailing cables.
The XGT 40VMax machines have also been designed for durability, featuring heavy-duty outer casing and cell holder and shock absorbing housing to protect the battery if dropped. Each XGT battery has an IPX4 rating, which means that it is splash and shower proof, and water ingress is limited which is ideal when working outside in unpredictable weather.
Steve continues: "A lot of our work involves stainless-steel and we use the GA013G XGT 40VMax Angle Grinder for cutting the material to size and then the GA005G XGT 40VMax Angle Grinder to grind down the cut edges of the material. These models make work effortless as they offer the same power as 1,100W corded grinders so we can complete tasks quicker and more efficiently."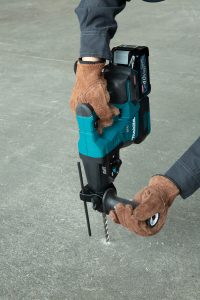 To improve the safety of the team, the GA005G and GA013G both feature Makita's clever active feedback sensors that shut down the tool in the event of kickback. These models also feature an anti-restart function that is engineered to prevent the motor from starting up when the battery is inserted with the switch locked on, as well as an electric brake that quickly stops the blade from turning to prevent injury.
By adopting Makita's XGT 40VMax machines, Balustrade SW Ltd, from Exeter has been able to update its selection of existing kit with more powerful machines suited to higher-demand applications. As such, on-site efficiency has been drastically improved as the team can always ensure that they are using the right machine for the task at hand.