MKM is proud to announce the opening of its 100th branch, which officially opened its doors in Bromsgrove on 23 September.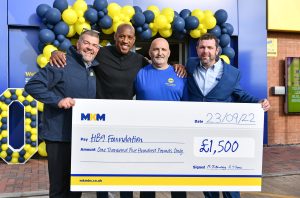 The company began life as a start-up business, founded in Hull 27 years ago. From its humble beginnings with just five people in a 5000sq ft shed, MKM now has over 2500 employees, with branches right across the UK, except Northern Ireland.
On the day, the cutting of the ribbon to declare MKM Bromsgrove officially open was performed by David Kilburn, the joint founder of MKM and Kate Tinsley, MKM's CEO.
The opening event attracted hundreds of local customers, who were royally entertained by ex-Aston Villa and England footballer Dion Dublin, along with Kevin Ward, Bromsgrove's Town Crier.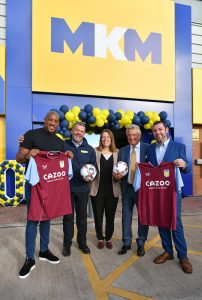 Patrons from The Harry Bennett Foundation (HB9 Foundation) – a local charity set up in memory of the life of a Bromsgrove teenager, also attended the event. MKM Bromsgrove has pledged its ongoing support to The HB9 Foundation, with Dion presenting the charity with a cheque for £1500 on behalf of MKM.
MKM's 100th branch opening will be followed shortly with openings in North Walsham, Lincoln North, Bury and Manchester.
The current growth of branches will continue at a pace. MKM's unique business model is a central lever to its expansion. The model gives Branch Directors a stake in their own business, driving extraordinary performance, resulting in MKM being one of the best in the industry.
Explaining the fundamental ethos behind MKM, Kate Tinsley, CEO, explains: "It's about providing the highest levels of customer service by employing local people who have the drive, knowledge, skills and enthusiasm to deliver this from premises built around today's discerning customer.
"As local people serving local people, it provides MKM with the opportunity to play a significant role in the local community," continues Kate. "The Bromsgrove branch is already working with local charitable organisations to assist in their fundraising activities. As a business. MKM supports many hundreds of charities, local sports teams and community projects across the country."