Specifically designed to offer superior glare control, the new Vantage UGR19 Downlight from Ansell Lighting is ideal for settings where visual comfort is key.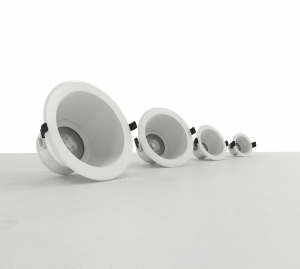 Despite producing a high level of light, the performance downlight has a low glare rating thanks to its deep angular design which reduces reflection, making it the perfect solution for commercial and educational settings or for those where computer screens are in high use.
Available in four different sizes 82mm, 118mm, 172mm and 230mm, the new Vantage UGR19 downlight is easy to install and can be fitted into existing hole cut-outs from 68mm to 200mm. It also has two selectable colour temperatures, 3000K and 4000K, giving the user the ability to improve ambience by setting cool white or warm white hues.
It is also fitted with a Tridonic driver as standard, promises an ED lifespan of L70 50,000 and comes with a 5 year warranty for added confidence.
Mark Abbott, Managing Director at Ansell Lighting says: "The new Vantage UGR19 downlight is a great addition to our popular Vantage range. Visual comfort is a hugely important factor when considering lighting in spaces where people work or spend the majority of their day and plays a huge part in productivity and overall wellbeing.
"The new downlight offers superior glare control and also benefits from selectable CCT technology.. Increasing its appeal in public spaces, the Vantage UGR19 is also available with emergency, DALI emergency, self-test emergency, OCTO smart control and digital dimming options for enhanced functionality."