New electricity equipment is now in place in Guildford as part of an investment upgrade to serve thousands of homes and businesses.
Engineers have installed 21 new switchgear panels inside a new purpose-built electrical switch-house as part of a £7.3 million network investment by UK Power Networks.
The scheme is modernising and future-proofing the power network to help maintain safe and reliable electricity supplies for residents for decades to come.
Due to the weight of the new kit, moving the equipment was a specialist job, as each unit weighs up to two tonnes. The team used a landing platform then guided the equipment into position on weight-bearing rails.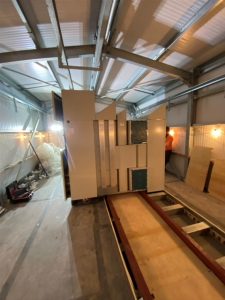 Anthony Griffin, project manager at UK Power Networks, says: "The installation of this equipment is a key milestone in the project and highlights our progress. We received the units through the main doorway into the switch house and installed them on to a rail system, each unit had to be individually installed in a sequenced manner. This was a challenging lift, due to the space constraints on site, completed as a professional, safe and collaborative operation which was successfully undertaken by our contractors and supply partners.''
The vast majority of the civil engineering elements of the scheme have been completed. Now the activity will shift to pulling cables and making the cable connections and control wiring.
The new switchboard is due to go live later this year, providing a series of electrical connections to other substations across the local area.
Two transformers will be replaced as part of the overall investment. These step down the voltage so power can be safely delivered to smaller electricity substations and homes.
The project which is underway in Guildford is one of several electricity network improvements taking place across the South East as part of the company's £600 million investment in its networks this year to maintain reliable electricity supplies.
With this milestone met, the project in Guildford is due to be completed by this autumn, at which stage residents will benefit from the network upgrade for years to come.
UK Power Networks delivers electricity supplies to more than 8.3 million homes and businesses across the South East, London and East of England and operates more than 53,000km of overhead and underground cables in the South East alone.